Is a nootropic supplement that contains 28 ingredients safe? Yes, we are talking about Qualia Mind. Let's find out the truth.
Is Qualia Mind Safe?
Qualia Mind is one of our favorite nootropic stacks. It is a very complex supplement that contains 28 ingredients. It was developed to help you achieve ultimate cognitive performance.
Many similar products are competing in this niche, but Qualia really seems to be unique by providing such an advanced supplement.
Due to the lack of research, many wonder if Qualia Mind is really safe?
Well, we intended to find that out.
Formulation
As we mentioned before, Qualia Mind contains 28 high-qualia nootropic.
Most of them are well-dosed (according to scientific recommendations). Only a few ingredients are underdosed.
Compared to some other competitors, this supplement does contain a few under-researched ingredients.
That doesn't mean it is unsafe, but we lack information about long-term use.
Saying it differently, we don't understand what will happen in a few years of supplementing it daily.
Apart from a few ingredients, there is nothing to worry about.
Ingredients
As far as we know, Qualia nootropics are the results of thousands of hours of research by top scientists that work at the Neurohacker Collective.
This should give you an idea about how safe the supplement really is.
However, it is hard to find any info about the quality of the ingredients. Based on its price, we assume that Qualia ingredients are of the highest quality possible.
The fact that they use many branded ingredients such as Coznigin, Organic Coffeeberry, etc. is a compelling sign.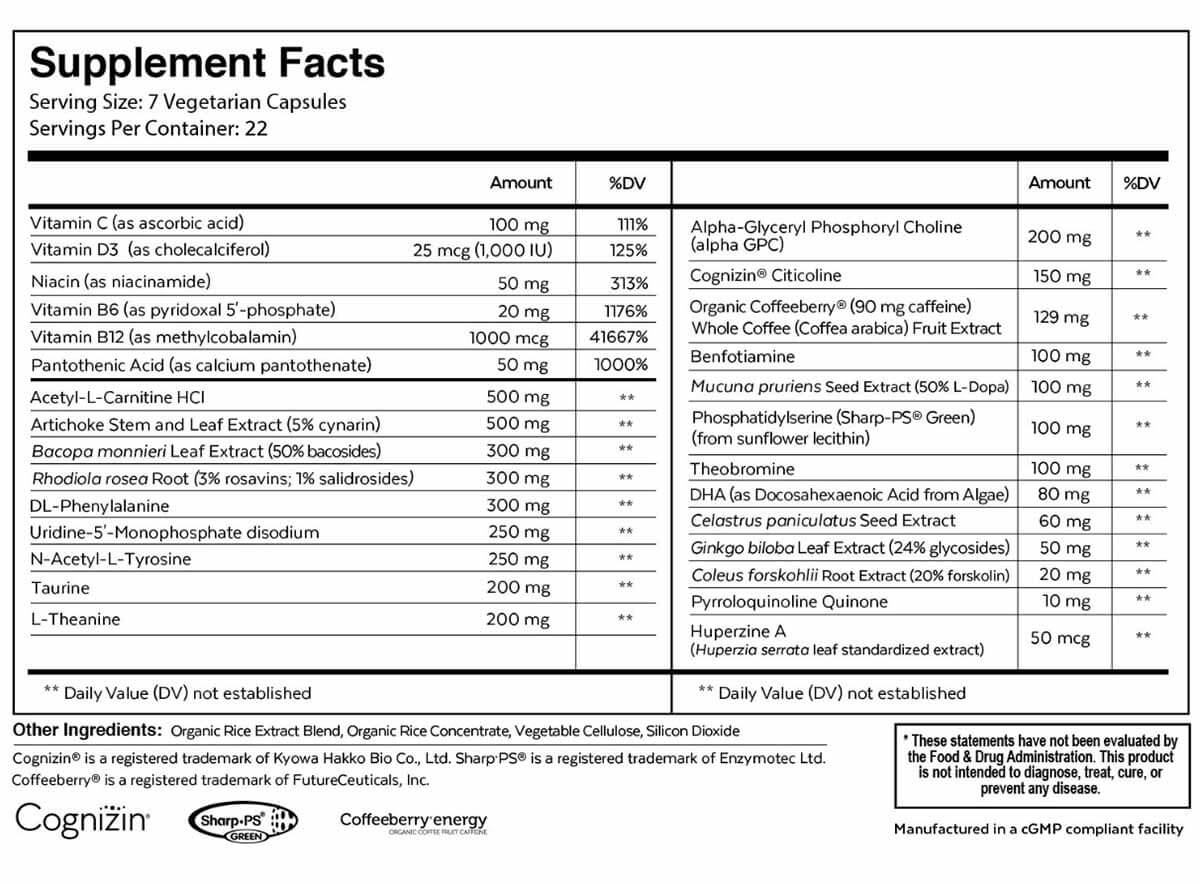 High Manufacturing Standards
Qualia Mind is manufactured in the US, in the GMP compliant facility.
We were informed that Neurohacker Collective is using the highest-quality manufacturing standards.
What is also cool is the fact that most people working at Neurohacker Collective take Qualia Mind by themselves.
When we visited them, we actually saw that ourselves. 
We think that's pretty cool and rare. It does not confirm it's a 100% safe supplement, but if a group of scientists takes their formulations, there is really not too much to be afraid of.
Experience
It's important to mention that we have been taking Qualia Mind for years.
During these years, we never experienced any adverse side effects or issues with this supplement.
This is also true for many of our friends who have been taking it.
When we were doing our research about Qualia Mind and checking other users' comments, we noticed that the significant majority of people would agree with us. 
Compared to some other supplements, it's quite hard finding dissatisfied customers.
Sure, some people expected something else (we don't know what exactly), but when it comes safety, there have been no real issues noted. If you, of course, follow the rules.
Is Qualia Mind Safe?
Yes, according to our research, Qualia Mind is a safe nootropic supplement to take in the short-term. But we need more data to prove its long-term safety.
We highly recommend it, because it is one of the most effective supplements on the market.