Review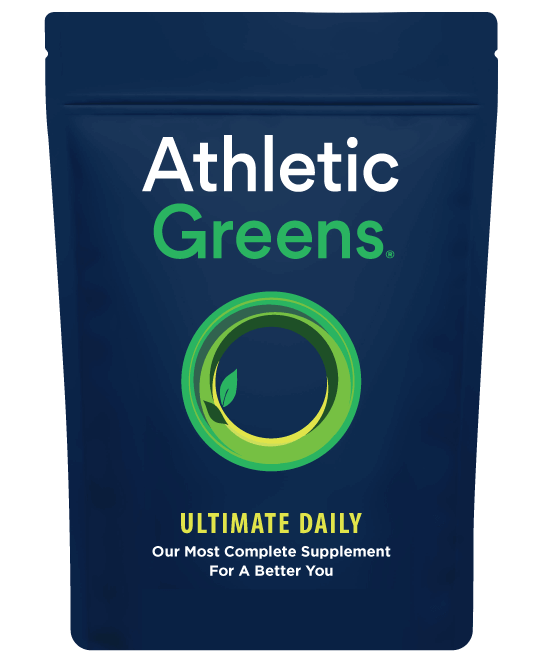 Product Name: Athletic Greens
Product Description: Athletic Greens is a greens supplement that contains 75 ingredients.
Brand: Athletic Greens
Introduction
Athletic Greens seems to be an ultimate solution to unlock our true potential and live a healthy life. The supplement contains over 75 ingredients, and it was developed after 10 years of research. But is it safe? And does it work? Let's check out my full Athletic Greens review.
Pros
It contains over 75 high-quality ingredients
It tastes well
Athletic Greens provide a whole range of benefits
Cons
Quite expensive
Not everyone will like the taste
Athletic Greens Review  
Athletic Greens is an all-in-one daily supplement that was developed to help you live a healthy life.
It contains 75 vitamins, minerals, and whole-food ingredients.
It's one of the most popular (if not the most popular) green supplement on the market.
Here are the main Athletic Greens benefits:
Better digestion, gut, and liver support
Immune system support
Energy production
Antioxidants & superfoods
Adaptogens for hormone support
As you can see, this green supplement provides a lot of benefits. But should you consider supplementing it?
When I lived in Sweden, and I was fighting with severe sickness, I was continually searching for an all-in-one multivitamin and mineral pack that would fit my requirements.
The main reason for that was that it was extremely inconvenient having 10 or 20 different products at home and then taking the capsules one by one until you can't even swallow them anymore.
After a lot of research, I came across the Athletic Greens.
I've been personally taking it for quite some time before I decided to do a review.
So, let me share my experience with this green supplement.
My Experience With Athletic Greens
All in all, I've been taking Athletic Greens powder since 2017. In this period, the formula changed, the packaging changed, and the brand became one of the most popular in the supplement industry.
But what hasn't changed are the questions that people ask me regarding Athletic Greens. So let me tell you a couple of crucial things you should know about this supplement. 
1. The taste
Well, this is a very subjective topic, but I find the taste ok. You can still add some additional proteins to it, or a lemon juice or something else if you want to make it even better.
2. The effect
It's funny – people often ask me: "Did you feel anything after you took Athletic Greens?"
Hm, what exactly could I feel? This is not a nootropic stack or a drug, but just a pack of essential ingredients for our body.
So don't expect to feel any special after you take it. Well, at least not in the short term. In the long term, however, you should feel better. With all the essential nutrients you get by taking Athletic Greens, I can imagine many of you will see a dramatic improvement in your overall mood and well-being as well. 
3. Side-effects
 I experienced no adverse side-effects, and based on my research, it happens very seldom that people have any issues after taking this supplement. However, it is important to follow the guidelines.
4. The package
The package is well-designed and pretty good. As far as I saw, there is nothing to complain about the quality. Also, the majority of reviews I checked agree with that.
5. Overall experience
Exactly as I hoped. Taking this supplement is very convenient, it's healthy, and it gives a lot of benefits.
It saved me tons of time compared to taking 10+ different supplements, and it is much cheaper overall.
Based on my experience, I love Athletic Greens and recommend it to everyone concerned about a healthy lifestyle.
Athletic Greens is not a magical product, but after using it for a while, it seems like one.
Athletic Greens Ingredients
Athletic Greens is the most nutrient-dense whole food supplement available which contains over 75 ingredients.
Here are all of the supplements that you can find in Athletic Greens:
Alkaline, Raw Superfood Complex
Natural Extracts, Herbs, and Antioxidants
Digestive Enzymes and Super Mushroom Complex
Non-Dairy Probiotics
Essential Vitamins and Minerals

25 Alkaline, Raw Superfood Complex

This combination of superfoods, such as Spirulina, organic Apple, Wheat Grass Juice, and Alfalfa Powders will reduce the acidity levels of your body, making you feel less lethargic, and will give you that energy boost you need for your day-to-day activities.
The ingredients that pop out the most in this complex are Spirulina and Wheat Grass Juice Powder. Spirulina is an edible alga that is proven to help out with the removal of metals from our bodies, along with increased endurance and decreasing muscle damage from exercise or strenuous labor. [1]
Wheat Grass Juice Powder further helps with reducing inflammation, has cholesterol-lowering characteristics, and helps regulate blood sugar levels.
17 Natural Extracts, Herbs, and Antioxidants

Athletic Greens powder also stands out because they added protein to their already stacked superfood blend.
Protein is the main building block of our muscles, so Athletic Greens decided to include Alkaline Pea Protein Isolate into their mix to make their product as rounded as possible. Protein isolates are one of the purest and fastest absorbing proteins, which means this morning drink will quickly kick your metabolism and recovery into high gear.
Natural extracts and herbs, such as Globe Artichoke Leaf Extract, Rhodiola Rosea Root Dry Extract, and Eleutherococcus Senticosus Root Extract will improve your digestion, lower your bad cholesterol levels, and help fight pesky daily fatigue.
5 Digestive Enzymes and Super Mushroom Complex

What good are heaps of nutrients if your body can't break them down? The digestive enzymes and the Super Mushroom Complex improve your body's ability to absorb and process the countless nutrients this powder provides.
2 Non-Dairy Probiotics
Probiotics are live bacteria and yeasts that benefit your intestinal health. [2]
These friendly microorganisms help improve your digestive system functions and keep your gut healthy. Adding probiotics and digestive enzymes to the blend proves the company put some thought into their product.
22 Essential Vitamins and Minerals
Vitamins A, C, E, B1, B2, B6, K2 are just a select few of the many vitamins this super product contains. And I'm a big fan of vitamins B, C, and K!
The combination of these vitamins and minerals, such as Calcium and Phosphorus, will make your bones, nails, and hair stronger, eyes sharper, and your brain clicking at 110%.
As you can see, this product is genuinely jam-packed with micronutrients that are supported by digestive enzymes for optimal absorption and synthesis.
It is completely safe to use, but I wouldn't recommend taking over two servings or two heaping tablespoons a day, only because of the large amounts of certain vitamins per serving.
Athletic Greens Side Effects
During my test of Athletic Greens supplement, I experienced no adverse side effects.
It happens very rarely that people have issues with it. It's a very high-quality supplement.
But if you do experience side effects, stop taking it, and consult your doctor.
Athletic Greens Dosage
Because of its surprisingly good taste, drinking Athletic Greens will not feel like a chore like with some other superfood products that might have that "grass clippings" taste.
Depending on your needs, I recommend taking a tablespoon or two on an empty stomach.
A single serving will cover all your basic needs and address any micronutrient deficiencies you might have, along with strengthening your immune system and gut health.
However, if you are suffering from serious nutrient deficiencies, stress, or you are an athlete, feel free to take two servings. And as always, I do recommend consulting your doctor before adding any new supplements to your daily regime. 
Athletic Greens Reviews
Athletic Greens has been accepted well and is regarded to be in the top tier of superfood supplements.
The only drawback for some is the lack of transparency of the product's core ingredients.
Instead of listing them all one by one and stating the exact amount of each ingredient, the company decided to sort their ingredients into 4 different 'Complexes.' This makes some people skeptical and thinks the company is trying to "fairy dust" ingredients just for the sake of adding them to their product.
Nevertheless, most people in the market are satisfied with the product.
Very importantly, there are many life hacking experts such as Tim Ferriss who also recommend Athletic Greens.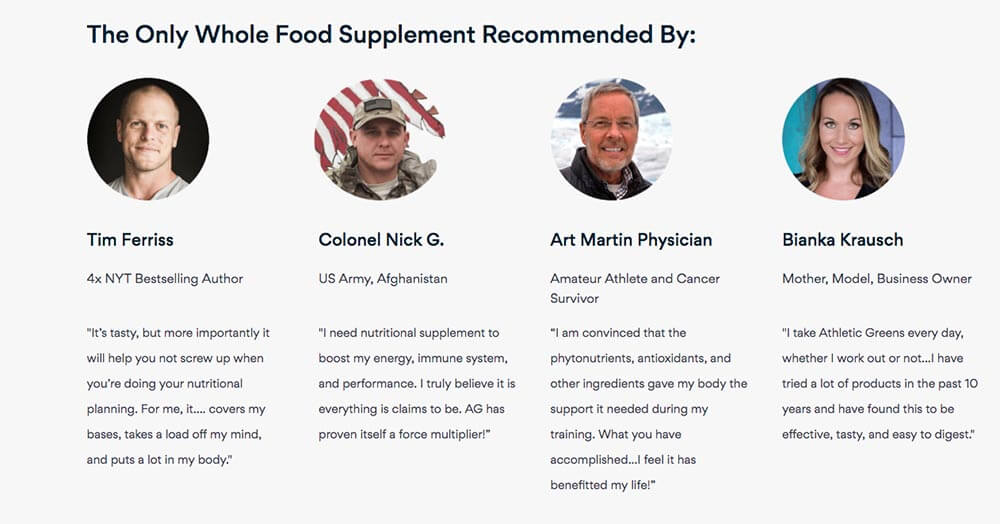 Let's check some other reviews:
"I would give ATHLETIC GREENS a million stars if I could!!"

"I absolutely love Athletic Greens!! I was skeptical at first but after my 1st bag I was astonished and very happy! I take my serving every morning even when I travel – It not only tastes GREAT it also is very easy to digest and I really feel pretty AMAZING"

"I just reordered my second package of Athletic Greens because it's been nothing short of a miracle for me. My energy is way up, my psoriasis is barely visible and I feel great. It is expensive, but with all the major food and nutrient sources it provides, it so worth it!!"

"Fabulous product and a great safely net, even for people who eat well. I have been using this for nearly 6 months and mix it with a little juice/water and it's a great boost in the morning and/or mid-afternoon. I highly recommend. The travel packs are great to keep healthy habits with me when I am away from home!"

"This was highly recommended by a friend. Even though it's expensive the health benefits are worth the cost. I mix it in with my protein shake for a healthy filling meal!"
How about Athletic Greens negative reviews?
Well, you can find quite a few, but most are related to customer support, shipping, etc.
There is a meager percentage of negative reviews related to the product itself.
And those they are they mainly mention the product taste.
Which I believe isn't that bad at all. Luckily, most users agree with me.
Where To Buy Athletic Greens?
To sum up, Athletic Greens is a fantastic product that contains over 75 healthy ingredients that your body needs for optimal performance. 
Here you can get the lowest price for Athletic Greens >>
They provide two different subscription plans, so check which one you prefer the most.
Currently, there is no Athletic Greens discount code available, but if you click here, I guarantee you will get the lowest price possible.

Your Inception Final Recommendation
Your Inception recommends supplementing Athletic Greens. We've been researching food supplements and nootropics since 2015. We rarely came across such a complex supplement as Athletic Greens. This is one of the most advanced and well-thought superfood supplements. From all the ingredients to the quality of the supplements, from the packaging to amazing customer support. We don't want to sound like their biggest fan, but to be honest, Athletic Greens is in our humble opinion the best daily green powder that should be on your menu (well, at least a couple of times per week).
So that's our honest recommendation. If you have any questions, do not hesitate to contact us.
Frequently asked questions
1. Athletic Greens free shipping – is it available?
No, currently there is no free shipping available. But the shipping price is very affordable.
2. When is the best time to take Athletic Greens?
The best time to take Athletic Greens is in the morning, about 30 minutes after you wake up. 
3. Is this product suitable for vegetarians and vegans?
Athletic Greens is entirely plant-based, contains no eggs, dairy, or any other animal products.
4. Athletic Greens travel packs – are they available?
No, currently there are no travel packs available. However, the standard Athletic Greens package is small enough to fit in your bag for traveling.
Resources
[2] https://www.webmd.com/digestive-disorders/what-are-probiotics