Rating
Product Name: Qualia Mind
Product Description: Qualia Mind is a premium nootropic stack from the Neurohacker Collective company.
Brand: Neurohacker Collective
Introduction
Qualia Mind is a premium nootropic stack from the Neurohacker Collective company. It was designed to promote focus, support energy, mood, creativity, and mental clarity. Since the original Qualia supplement used to be one of my top 3 favorite products, I expected a lot from it. But did it satisfy me? Check out my full Qualia Mind review.
Pros
It increases focus, motivation and delivers lots of energy
High-quality and well-researched ingredients
Several doctors and health experts recommend it
Cons
Cycling is needed on a weekly basis (5 days on, 2 days off)
Subscription is recommended
What Is Qualia Mind?
Qualia Mind is a dietary supplement for mental performance.
It's a newer version of the original stack that used to be the leading nootropic supplement.
While original supplement is no longer on the market, Qualia Mind became one of the most popular nootropics on the market.
What Makes It Stand Out
It improves brain fog
It provide energy & focus
It boosts brain nutrition
It increase focus
It helps with mental clarity and flow
Neurohacker Collective, the company behind the product, has an outstanding reputation in the nootropic industry.
But can you really expect an improvement by supplementing it?
And does it work?
Experience With Qualia Mind
As you can imagine, I expected a lot from this nootropic.
So I couldn't wait to try it out.
And as soon as I tried it for the first time, I soon realized why it is so popular.
Test Period
During my 2-week test period, I have learned a lot about this nootropic supplement.
I started with seven capsules per day, I increased the dosage to ten and later even twelve capsules per day, but in general, I believe seven capsules per day is just a perfect dose.
Here is what you can expect from this nootropic supplement.
An hour after you take the capsules, you should notice increased alertness, focus, and a smooth energy boost.
The great thing about it is that after you take the capsules, you can also feel how your mood changes.
Everything seems a bit easier, and a bit more fun.
Your focus narrows, you get a small energy boost, and it seems like working is easier than ever before.
Now, don't expect a massive kick of any sort (you are not taking the smart drugs), but this pleasant energy and focus boost are more than welcome every morning.
And by taking it for weeks, the effects and benefits should even improve.
So, Qualia Mind will help you get into a hyper-productive zone that will last for hours.
Besides its effectiveness, I love it for several other reasons:
The brand is like a Mercedes among cars – very premium 
They have lots of supporters even among doctors, health and fitness experts
Their packaging is fabulous
Is There Anything I Don't Like About Qualia Mind?
Yes, it is.
One thing I don't really like about it is that you have to take at least seven capsules every day.
It is a bit inconvenient.
But if you want a high-performance food supplement that comes in capsules, that is just part of the game.
Another thing I don't like that much is the price.
One bottle (a month of supply) currently costs $99. By subscribing, you can get an additional 50% discount.
Is this nootropic supplement? worth the money? Absolutely, no doubt about that.
Also, below I'll show you how you can get an even better price for it.
Qualia Mind Ingredients
Qualia Mind is a premium supplement that contains 28 ingredients.
Yes, you read it right. This means that it is a fairly advanced product.
Let's check out them out.
Here is the Qualia ingredient list: 
100 mg  Vitamin C

25 mcg Vitamin D3
100 mg Thiamin B1
50 mg Niacin B3
20 mg Vitamin B6
1000 mcg Vitamin B12
50 mg Vitamin B12
500 mg Acetyl-L-Carnitine
500 mg Artichoke Stern and Leaf Extract
300 mg Bacopa monnieri
300 mg Rhodiola Rosea Root
300 mg DL-Phenylalanine
250 mg Uridine Monophosphate Disodium
250 mg N-Acetyl-L-Tyrosine
200 mg Taurine
200 mg L-Theanine
200 mg Alpha GPC
150 mg Cognizin
100 mg Mucuna pruriens Seed
100 mg PS
100 mg Theobromine
90 mg Caffeine
80 mg DHA
60 mg Celastrus paniculatus Seed Extract
50 mg Ginkgo biloba
20 mg Coleus forskohlii Root
10 mg Pyrroloquinoline quinone
50 mcg Huperzine A
Yes, this a long list of nootropics. Neurohacker Collective is known for combining a lot of nootropics into a single product which a lot of people prefer.
It is just more convenient and more comfortable to use.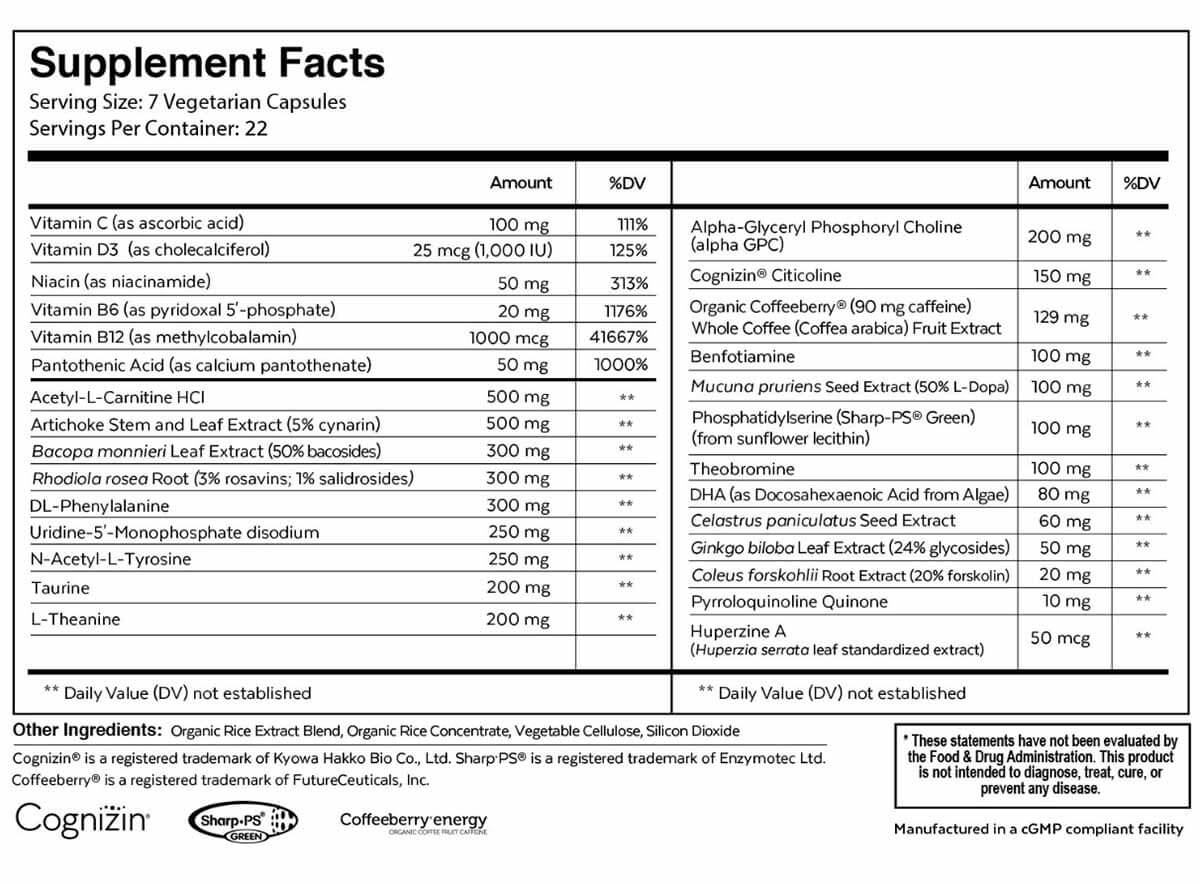 Acetyl-L-Carnitine
ALCAR can cross the blood-brain barrier, potentially boosting the brain's mitochondrial output.
Artichoke Stem and Leaf Extract (5% Cynarin)
It may have antioxidant benefits on brain health.
Bacopa Monnieri Extract (45% Bacosides)
Bacopa is an herbal cholinergic adaptogen with significant nootropic potential which may improve memory and learning.
Rhodiola Rosea Extract (3% Rosavins, 1% Salidrosides)
Rhodiola Rosea is a powerful anti-stress adaptogen with strong effects on fatigue and cognitive clarity.
DL-Phenylalanine
DL-Phenylalanine may improve mood and anxiety levels.
Uridine Monophosphate Disodium
Uridine seems to possess significant brain energy.
N-Acetyl L-Tyrosine
L-tyrosine may alleviate the brain crash associated with an activity, stress, sleep deprivation, and similar.
Taurine
It seems to have a role in the relaxation due to its semi-seductive effects.
L-Theanine
L-Theanine is one of my favorite nootropics that has the role of a relaxing agent without sedation. Besides, it can increase our attention as well. I'd recommend combining it with caffeine.
Alpha GPC
Alpha GPC is a choline-containing supplement that is used by younger people for improving their memory and by older people to decrease their cognitive decline. Athletes also use Alpha GPC to enhance power output.
Citicoline (Cognizin®)
Energizes and enhances mental performance without the crash of stimulants. Cognizin® Citicoline has been shown in human research to promote mood balance, memory, attention, focus, and concentration. Long term, it may help maintain healthy brain function against age-related structural changes and mental decline. Citicoline has also been suggested to assist with recovery after brain injury.
Mucuna Pruriens Extract (50% L-Dopa)
Mucuna extract is used in testosterone, boosting supplements for its enhancing benefits. Besides, it might increase our dopamine level and decrease the cortisol level.
Phosphatidylserine (Sharp-PS® Green)
PS may sharpen memory, slow cognitive decline, and promote a positive-minded outlook. It has shown promise for helping the elderly with brain degeneration, apparently slowing the progression of memory loss while helping with mood, anxiety, socialization, and mental clarity. As a result, PS is the only nootropic with an FDA-qualified claim for reducing cognitive decline risk.
Theobromine
Theobromine may have stimulatory effects similar to caffeine.
Anhydrous Caffeine
It is the world's most widely consumed psychoactive drug.
DHA (Docosahexaenoic Acid from Algae)
DHA is an anti-inflammatory compound.
Celastrus Paniculatus Extract
Celastrus paniculatus can protect our brain and improve cognition, but the effect becomes stronger over two weeks of supplementation.
Ginkgo Biloba Leaf Extract (24%)
People supplement Gingko Biloba for cognitive enhancement, or to alleviate cognitive decline. It is also used to improve memory.
Coleus Forskohlii Extract (20% Forskolin)
Coleus Forskohlii is a popular fat burning supplement that may also improve neuron-to-neuron communication.
Pyrroloquinoline Quinone
It may improve stress, sleep, and fatigue levels while also offering significant antioxidant protection.
Huperzine A (Huperzia Serrata Extract)
Huperzine-A is a cognitive enhancer that inhibits an enzyme that degrades the learning neurotransmitter, acetylcholine; due to this, a relative increase occurs. It may be useful in fighting the cognitive decline in the elderly.
Suggested Use & Dosage
According to Neurohacker Collective, take seven capsules with water first thing in the morning before eating.
If upset stomach occurs, take it with breakfast instead. Optimal dosage can vary based on body weight and sensitivity.
Don't take more than ten capsules at once and more than 12 in a day.
Based on my experience, I'd suggest taking between 5 and ten capsules on an empty stomach.
I've experienced much better results with nootropics when taking them on an empty stomach compared to taking them with breakfast.
Do not exaggerate with the daily dosage, but feel free to experiment a bit.
And as always, I do recommend consulting your doctor before taking any nootropics.
Qualia Mind Side Effects
During my 2-week test period and also through months of taking Qualia Mind supplement, I never experienced any side effects.
If you follow the recommended daily dosage, you shouldn't worry about side effects.
But if you do experience any, do consult your doctor.
Qualia Mind Reviews & Feedbacks
This nootropic supplement is used and recommended by several well-known doctors, health, and fitness experts such as:
Mark Divine (Sealift), Ben Greenfield (Ben Greenfield Fitness), Dr. Scott Barry Kaufman (The Psychology Podcast) and Rachelle Brooke Smith (Disruptive Dare).
Positive Opinions About This Nootropic Stack
How about the negative feedback?
Honestly, it's hard to find them. This doesn't mean there are not any negative reviews, but they are sporadic.
Most negative reviews talk about the user experience (it's not that convenient taking seven caps/day), and some people had issues with individual compounds from the stack.
But the significant majority of people is more than satisfied with it.
And that's why, since the first release of it (I got mine in May 2018), it quickly became one of the most popular nootropic stacks on the market.
And with so many positive reviews, I believe it's going to stay so popular for quite some time.
Where To Buy Qualia Mind?
Qualia Mind is a great product for you if you want to:
Improve your focus and alertness
Improve your mood
Have more energy
Be more creative
You can order it here >>
Qualia Mind Price
At the price of $99 (it is cheaper if you subscribe), it is a fairly expensive supplement, but it is worth the price.
Especially if you search for an all-in-one solution.
IMPORTANT: Use discount code YOURINCEPTION & you'll receive 15% off.
I'm sure it will work just great for you – let me know your feedback!

Your Inception Final Recommendation
Qualia Mind supplement has been one of our TOP 3 nootropic stacks since the beginning of 2019. We recommended it to many of our friends and colleagues, and most of them still stick to it after months of taking. Look, it is a piece of art, no doubt about that. It contains very high-quality ingredients, which are well-dosed, and it is a premium product. It improves your mood, it makes you more focused, and work becomes easier. But Qualia Mind is not for everyone – it's a fairly expensive product and slightly inconvenient to take (you have to take a few pills per day).
Anyhow, it's still one of our favorite and most recommended nootropics of all time. And we see no reason why this should change anytime soon.
BEST FOR: Optimal cognitive performance
Frequently Asked Questions
1. When should you take Qualia Mind?
You should take it in the morning before breakfast.
2. What is the difference between qualia mind and qualia original stack?
The difference between the products is quite significant. The original stack was separated into two bottles, so you had to take a few capsules from the first bottle in the morning, and a few from the second bottle in the afternoon.
3. Is Qualia scam?
No, Qualia supplements are not scam. Just the contrary, Qualia is one of the best nootropic supplements on the market.