Review
Product Name: MADMONQ
Product Description: MADMONQ is a brain supplement developed for egamers.
Brand: Singularity Labs
Introduction
MADMONQ is marketed as a brain booster for elite gamers. While it has a pretty standardized nootropic formula, it does deliver some incredible performance. But would I recommend it? Let's check out my full MADMONQ review.
Pros
Relatively affordable pricing
Amazing branding and packaging
Cons
Slightly underdosed
A lot of caffeine per pill
MADMONQ Review
MADMONQ is promoted as the 1st brain booster for elite gamers. While you'd expect a unique formula made specifically for gamers, MADMONQ is using quite a standardized formula (with some unexpected exceptions which I'll mention later on).
Obviously, the brand saw a big potential on the "gamers market," and that's why they're focusing all their marketing activities on this market.
And I love this idea, btw.
Now, the product was designed to help you with:
Focus & reaction
Energy
Memory
Stress-control
Drive
Recovery
A quick overview shows a promising product.
If you add a beautifully designed package (definitely one of the nicest packages I've ever seen), outstanding reviews, and quite an amazing taste of the pill (read further), you potentially have a supplement which could definitely be one of the best nootropic stacks ever developed.
But MADMONQ has a big secret.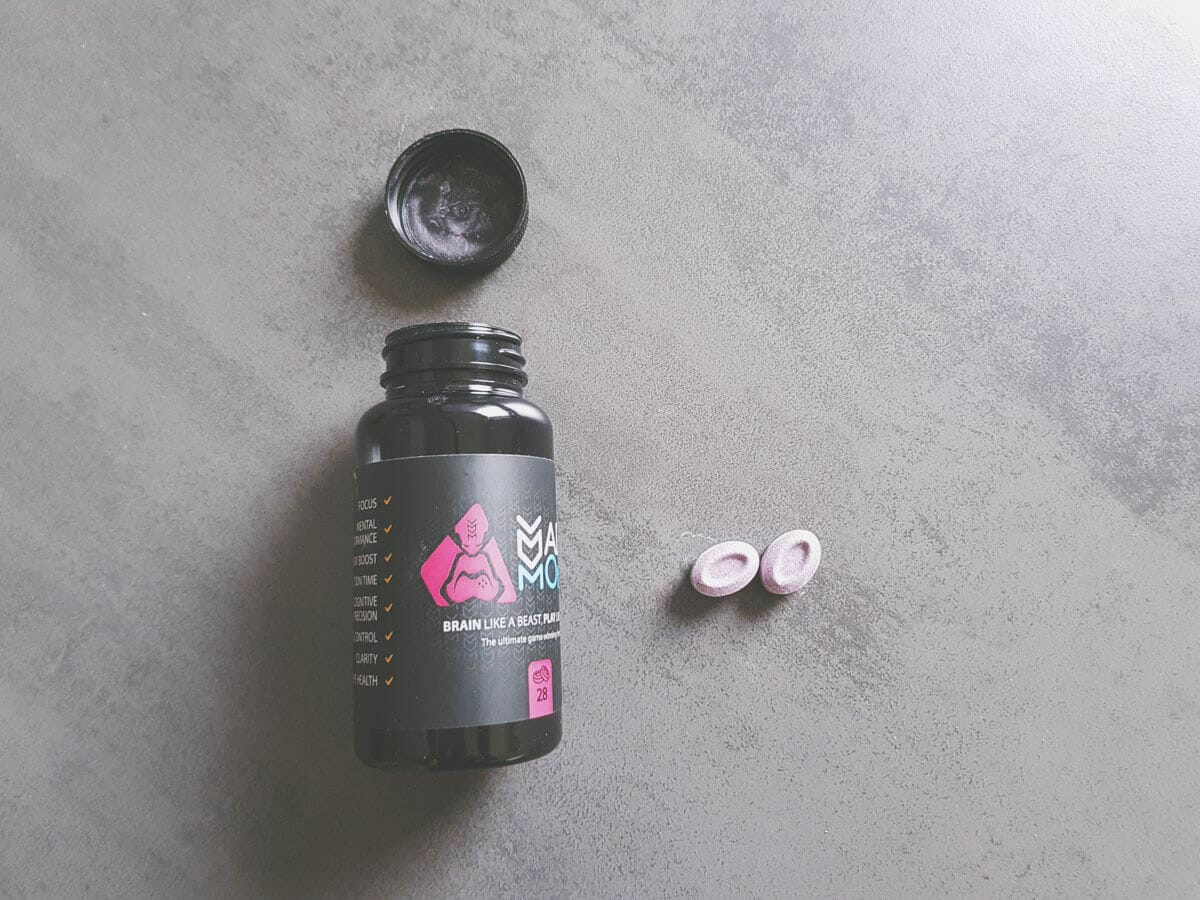 My Experience With MADMONQ
Before I share the secret with you, let me tell you something about my experience with MADMONQ.
When I received the package and opened it up, I was pleasantly surprised.
The whole packing is outstanding, well-designed, user-friendly, and it definitely makes you want to buy this supplement.
So, I've decided to do a 1-week review & test as I always do to see what happens.
TEST WEEK
Day 1: Actually, I was quite confident what's going to happen before I even tried MADMONQ.
How is that possible? Well, I looked at the ingredients before the test…Usually, when you do that, you're still not sure how a particular stack will perform, but with MADMONQ it was quite clear.
So, I took 1 tablet (pill) and bam, 30 minutes later, I felt motivated, focused, and in a good mood. 
Again, I expected this result, but it still made me happy. There was no crash, no jittery, and I was in a good mood for about 3-4 hours.
Sadly, I wasn't playing any games on the first day, but I've decided to play some the next day.
Day 2: I've decided to take 2 capsules at the same time on the second day (bad idea, btw) and played some games. I bought the newest Battlefield game just for this particular test (well, I used this excuse with my girlfriend, and she fell for it…), and I've decided to play a game for a couple of hours.
It was quite fun – I felt extremely good (despite not a good K/D ratio), very motivated, and I was in a good mood.
But there were some issues that I didn't feel on the first day. I was a bit more stressed, I could also feel my heart going crazy, and I felt slightly nervous.
Also, there was some jittery effect after a couple of hours which I didn't like at all.
Obviously, taking 2 capsules at the same time was too much for me.
Day 3 – 7: During all other testing days, I've decided to stick to 1 tablet per day, which I took in the morning before I started working on my daily tasks. I played a couple of more games of Battlefield, I also played Fifa, but I also spent quite some time working.
I was quite focused, most of the time in a good mood, and I didn't feel any jitters when taking 1 tablet.
So, I spent quite a fun week and was positively surprised by the effects.
However, here comes the "dirty surprise" that I mentioned before.
MADMONQ Ingredients
MADMONQs formula is non-GMO, vegan, sugar-free, without artificial colors and flavors. It's open-sourced, and I believe that all the ingredients are of high-quality.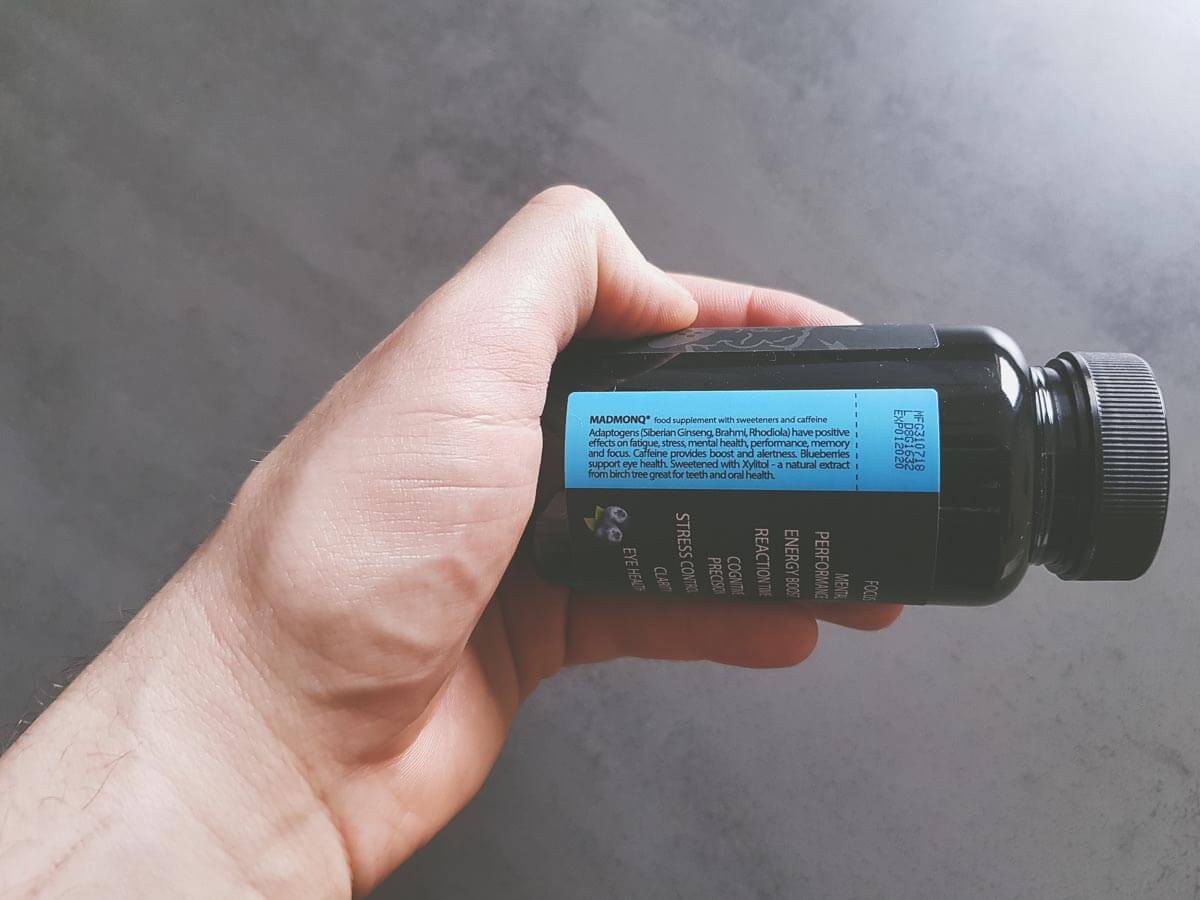 The "dirty secret" that I talked about is caffeine – 1 tablet contains 160 mg of caffeine, which is quite a lot.
In general, this is not a big deal, and I can imagine lots of gamers will appreciate that, but keep in mind that you should not mix MADMONQ with coffee or you'll definitely overdose on caffeine.
And you don't want to do that.
All right, let's check now the other ingredients of MADMONQ.
The formula contains 11 ingredients, which are:
Caffeine, 160 mg
Acetyl-L-Carnitine, 50 mg
L-Theanine, 52,5 mg
L-Tyrosine, 130 mg
Siberian Ginseng root, 1000 mg
Brahmi leaf extract, 21,2 mg
Rhodiola root extract, 10 mg
Blueberry fruit extract, 20 mg
Vitamin B6, 3,5 mg
Vitamin B12, 100 micrograms
Zinc, 2,5 mg
MADMONQ Side Effects
I've been taking MADMONQ tablets for more than a week (and I'll continue taking them occasionally), and during my test period, I've experienced no adverse side effects when sticking to the recommended dose (1 tablet).
However, when I took 2 capsules at the same time (not recommended!), my heart started going crazy, and I felt a weird pressure in my head.
Anyhow, this probably happened due to too much caffeine in my body so you should stick to the recommended dose of 1 tablet.
So, if you follow the rules, don't expect any side effects.
But if you do, do consult your doctor.
MADMONQ Dosage
As I mentioned before, the daily recommended dose is 1-2 tablets, but do not take them together.
I recommend taking one in the morning (after your breakfast) and one in the afternoon, before 2 PM.
That's how you'll ensure maximum performance, you'll avoid side effects, and you'll get rid of caffeine in your body before you go to bed.
MADMONQ Reviews
I've tried to find some MADMONQ reviews from other users. Luckily, I was able to find many.
Here I share some of them:
"Actually i've been using it before i went to gym
And kinda helped me to focus more and gave me much of Energy to do my training as best as possible,
There is one thing i didn't like that after two or three hours i feel sleepy, Is that normal?!"

"Madmonq somehow unlocked my secret brain chambers. Love these purple tablets !!"

"Does as advertised, so all in all a good product. Also respect MadMonq for openly saying a healthy lifestyle is better, and this product is not for them, but specifically for those who usually drink a lot of energy drinks (like me). This is no super pill that will make you a better player, but whenever I'd feel tired or unfocused, I'd take one of these and I'd after a while feel more awake/focused after. Also works for uni/work situations when you need to focus."
As I read those reviews, I saw that I had a similar experience with MADMONQ as others.
But what's my final recommendation?
Where To Buy MADMONQ?
If you decided to order MADMONQ, you can do it here >>
Should you have any other questions, do not hesitate to contact me.

Your Inception Final Recommendation
I believe MADMONQ has developed one of the tastiest tablets in the field of nootropics. It has a fantastic package, a beautifully designed website, and a great market fit. But does MADMONQ work? When you take it, you feel an energy kick, but there is no jittery that usually follows drinking coffee. Your mood will improve, and you'll be more motivated.
When it comes to nootropic ingredients, it is underdosed as many other nootropic supplements. If you expect serious nootropic effects, you'd have to take way too many tablets. So my final recommendation is the following: If you search for a unique energy booster, MADMONQ is definitely a product to try. If you, however, search for a more advanced nootropic stack, there are better options available.
Click below to find the best nootropic stacks on the market.