If you occasionally suffer from poor sleep, then you should consider taking sleep supplements. One of them, Qualia Night, seems to be very effective, but is it really?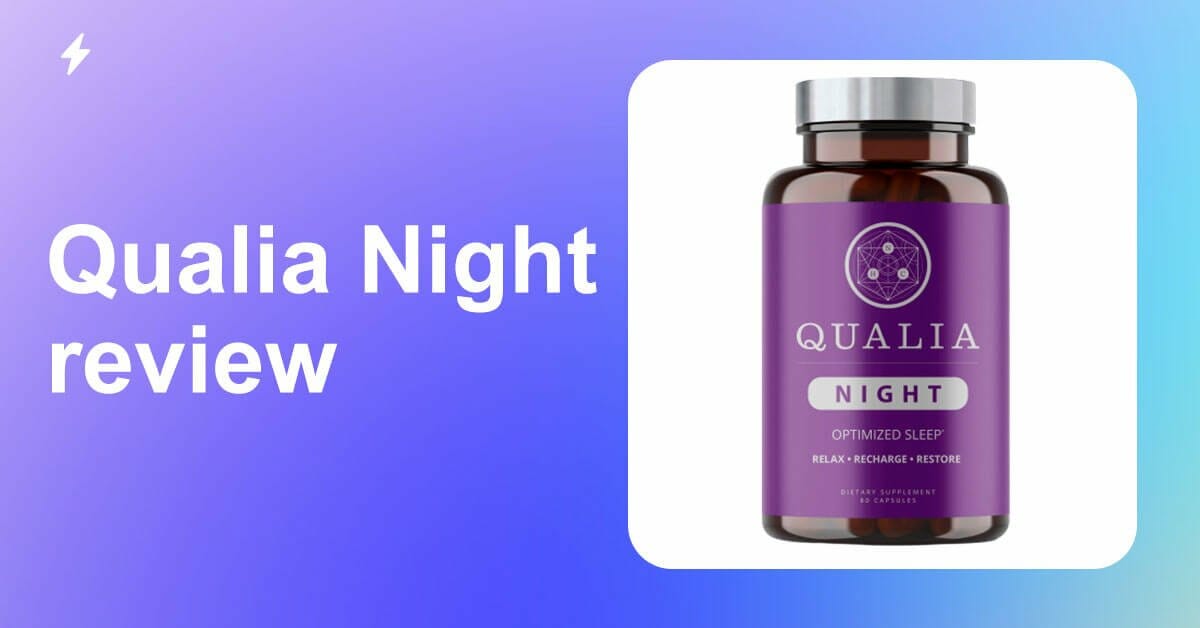 Qualia Night Review
Qualia Night is a sleep supplement that was designed to offer comprehensive sleep support. Compared to most other sleep supplements, Qualia Night stands out by providing 25 nootropic compounds, vitamins, amino acids, and other ingredients that help the brain regulate molecules important for deep sleep.
What's more – this nootropic supplement may help you in all stages of sleep:
 It may help you relax 
It may help you stay asleep
And it may help you wake up refreshed
But the question is – does Qualia Night work? And is taking 25 compounds safe?
Let's find out.
Our Experience
Our team tested Qualia Night for 1 week to see if it delivers on its promises. Besides the advanced evaluation of this supplement, we decided to use a sleep tracker to better understand its efficacy.
Test Week
We used the Oura ring (the most popular sleep tracker on the market) 1 week before the test of Qualia Night to establish a baseline score. After a week of tests, we started taking Qualia Night capsules.
Relaxation Benefits
One of the promised benefits of this sleep nootropic stack is that it may help you relax. Our subjective experience showed mild benefits. We generally felt slightly more relaxed, but it was a very mild effect that could also be just a placebo.
We expected stronger benefits.
Deep Sleep Benefit
Another benefit of Qulia Night is that it may help you stay asleep during the night and potentially improve your deep sleep stage.
Since it's hard to subjectively evaluate that, we used the data from the Oura sleep tracker. What we found was quite surprising – yes, Qualia Night actually improved the deep sleep stage score.
We were very positively surprised by that!
Morning Energy
Last but not least, Qualia Night may help you wake up refreshed and full of energy.
Our subjective experience showed that we were generally waking up with more energy, refreshed, and in a better mood.
Not just that, also the data from the Oura ring showed similar scores. On average, the overall sleep score improved by 8% compared to not using Qualia Night pills.
That's the highest improvement we noticed from any other sleep supplement so far.
We expected to feel stronger "relaxation benefits," but apart from that, we were positively surprised by the effects of Qualia Night. Our subjective experience and objective data we got from the Oura ring showed a significant improvement in our sleep quality. That was a big positive surprise for us!

Qualia Night Ingredients
Qualia Night contains 25 ingredients that are 100% vegan, non-GMO, and gluten-free. The formula is non-sedative.
Here is the list of all ingredients:
Amount per Serving
%DV
Vitamin B6 (as pyridoxal 5′-phosphate) 1.6 mg
94%
Magnesium (as magnesium glycinate) 50 mg
11%
Reishi Mushroom (Gonodermo lucidum) Fruiting Body Extract 500 mg
**
Holy Basil (Ocimum sanctum) Leaf Extract 250 mg
**
Hawthorn Leaf and Flower Extract 160 mg
**
Gotu Kola (Centella asiatica) Whole Herb Extract 150 mg
**
KSM-66 Ashwagandha® (Withania somnifera) Root Extract 150 mg
**
Schisandra chinensis Fruit Extract 130 mg
**
Wild Blueberry Fruit Extract 100 mg
**
Polygalo tenuifolia Root Extract 100 mg
**
Ziziphus jujuba Seed Extract 100 mg
**
Betaine (trimethylglycine) 100 mg
**
L-Tryptophan 100 mg
**
Olivex® Olive Fruit Extract 80 mg
**
Sesame Seed Extract 50 mg
**
L-Theanine 50 mg
**
White Peony (Poeonio lactiflora) Root Extract 50 mg
**
AstaPure® Haematococcus pluvialis Microalgae Extract (3% astaxanthin) 33 mg
**
γ-Oryzanol 25 mg
**
Uridine (as Uridine-5′-monophosphoric acid disodium salt) 25 mg
**
Grapefruit Whole Fruit Extract 20 mg
**
Vineatrol®20 Grapevine Extract 20 mg
**
Saffron Stigma Extract 15 mg
**
Lycopene 4 mg
**
Quercetin (as Quercetin dihydrate) 2.5 mg
**
** Daily Value (DV) not established
Other Ingredients: Hypromellose, Organic Rice Concentrate, Organic Rice Extract Blend
Without any doubt, this is the most complex sleep supplement that we ever tested.
Now let's check some of the important ingredients more in detail.
Magnesium
Magnesium is an essential dietary mineral that plays many important roles in our body. [1] It acts as a sedative, which is the reason you often find it in sleep supplements. The standard recommended daily dosage is about 200 – 400 mg. This means that Qualia Night lacks some magnesium for optimal results.
However, it may also lack magnesium because they wanted to make this formula non-sedative.
Ashwagandha
Ashwagandha is the most popular Ayurvedic herb used for improving anxiety and reducing stress. [2] A number of studies confirm that supplementing Ashwagandha can reduce anxiety disorders. The optimal daily dosage is 300 – 500 mg.
Reishi Mushroom
Reishi mushroom (also known as Ganoderma lucidum) is a potent stress reducer and anti-cancer agent. [3] Studies show that it may reduce depression and fatigue.
L-Theanine
L-Theanine is a popular amino acid that promotes relaxation without drowsiness. [4] Studies show that supplementing L-Theanine can improve sleep in people with ADHD. [5]
Holy Basil
Holy Basis is an anti-fertility agent that can increase libido. [6] In addition, some studies show that it may be beneficial for reducing stress.
L-Tryptophan
L-Tryptophan is an essential amino acid that our bodies convert to 5-HTP, which later turns to melatonin, serotonin, and vitamin B6. [7] As such, it is probably one of the most important ingredients in this supplement.
Qualia Night Suggested Use
Neurohacker Collective suggests taking up to 4 capsules of Qualia Night at dinner or a few hours before bedtime.
Since this nootropic stack is non-sedating, you probably won't feel sluggish or tired after taking the capsules.
It is important to cycle this supplement – follow a 5 day on, 2 days off cycle.
Side Effects
We experienced no side effects during our test. Since most ingredients in this supplement are under-dosed, we don't expect many people to suffer from side effects.
If you do, however, do consult your doctor right away.
Where To Buy It?
If you want to try Qualia Night, you can buy it here >>
By using our discount code YOURINCEPTION, you will get an additional 15% discount on the product.
Verdict
Your Inception recommends supplementing Qualia Night because it's one of the most advanced sleep supplements on the market.
Our tests and review showed great results, so we are convinced that most people will be satisfied with this supplement. However, we don't know much about its long-term efficacy nor safety, so we suggest regularly cycling this supplement.