Review
Introduction
I recently came across Double Wood Supplements, online vendor for nootropics. My first impression was all right, but should you consider buying supplements and nootropics from them?
Pros
Double Wood Supplements provide a wide range of nootropics
High-quality products & great customer support
Satisfying personal experience
Cons
Lack of information about the team
No social media pages
Double Wood Supplements Review
Double Wood Supplements online store provides a vast range of different nootropics, supplements, and even legal smart drugs.
Since I'm continually searching for new nootropic providers, I decided to order some nootropics from this provider, test them out, and do a full review.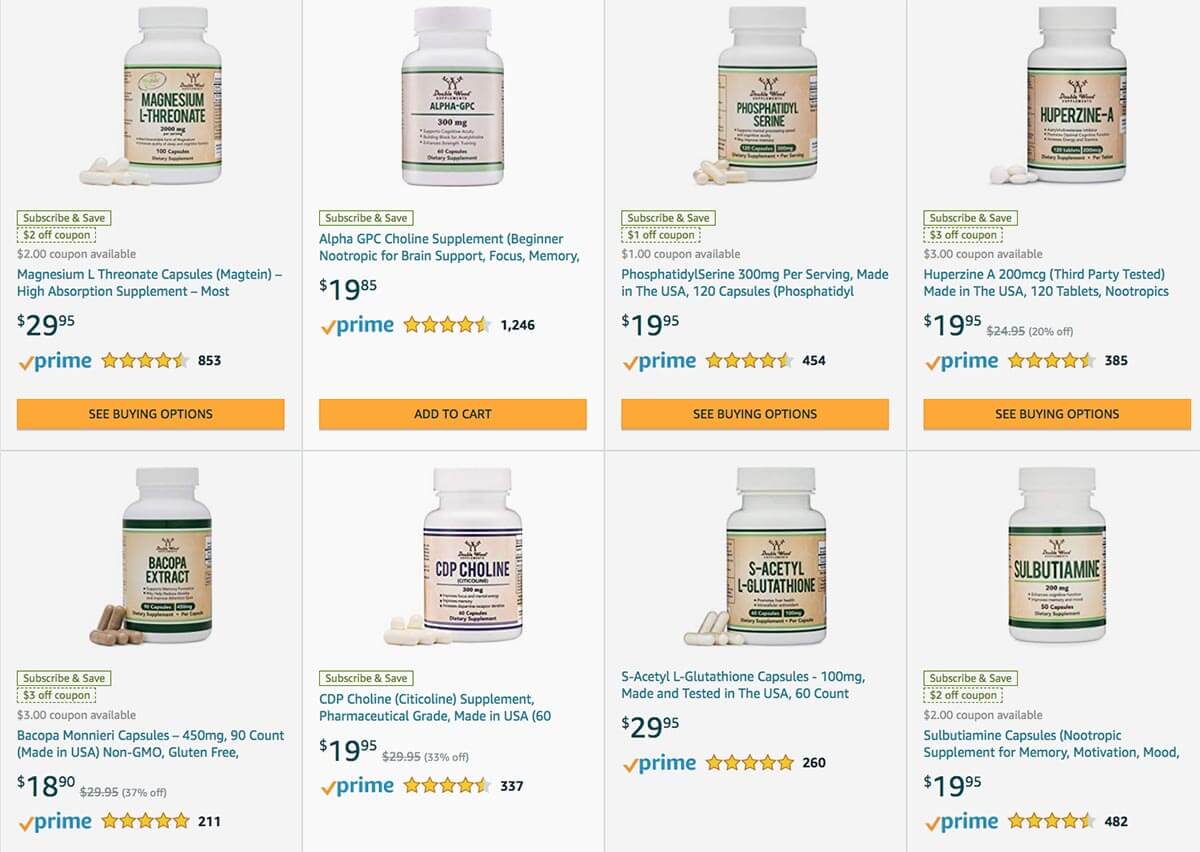 Now, before we go more into details, there is just a couple of stuff you should know about Double Wood Supplements:
They have a wide of supplements and nootropic stacks on stock
They tend to get a lot of positive reviews from customers
I've found that other nootropic experts had an enjoyable experience with them
Their customer support is superior 
So, there are a couple of great reasons why Double Wood Supplements is a great online vendor for nootropics.
But do I recommend it?
My Experience
I've recently ordered 2 products from Double Wood Supplements online store (Adrafinil and Magnesium L-Threnoate).
Now, since I wasn't sure if they ship internationally (I'm currently based in Europe, while they are based in the US), I reached out to them just before ordering, to be sure.
And yes, they ship internationally. 
So, after my order, I've received the products in about 5 days or so. Very quickly and without any issues.
Sometimes my nootropics get stuck on border, but not this time. Hooray!
I checked out the packaging of the products, which is pretty good, nothing to complain about. The products were sealed as I'd expected.
Besides that, the customer support and communication with the brand manager was outstanding.
All in all, I was very satisfied with:
The product range
Packaging
Shipping
Customer support
Overall user experience
But is there something I'd improve?
Double Wood Supplements: Improvements
Well, I'm not such a big fan of their brand design, but that's my issue.
Another thing I'm missing is more information about the team, the founders, their vision, etc.
It would be useful to know who stands behind this brand and why.
Also, I would like to see a Facebook and/or Instagram page, where they would regularly communicate with their followers.
Apart from that, there is not much more to improve.
Quality?
A lot of people worry about the quality of nootropics and supplements. And that's how it should be.
You can never be sure what kind of supplements do you get, right?
So, I've tried to figure out the quality of Double Wood supplements, and I was positively surprised.
For each supplement, they provide two things:
Certificate of analysis
Third-party test results (this is rare)
So, instead of doing your tests, you can check the third-party results to ensure the supplements you're going to be taking are high-quality.
Besides, I had a discussion with the manager, who assured me that the products are made in the USA (in the GMP certified facility) and always tested for purity.
This is good to know.
Double Wood Supplements On Amazon
Another exciting thing is that Double Wood Supplements is selling their products on Amazon as well.
If you know anything about Amazon, they are continually checking the companies that are selling on their platform. Anyone who tries to do any scammy business is quickly thrown out of Amazon.
The best thing (and slightly unexpected) about Double Wood Supplements on Amazon were all the reviews from verified customers.
Instead of sharing some Double Wood Supplements reviews, check out the image below: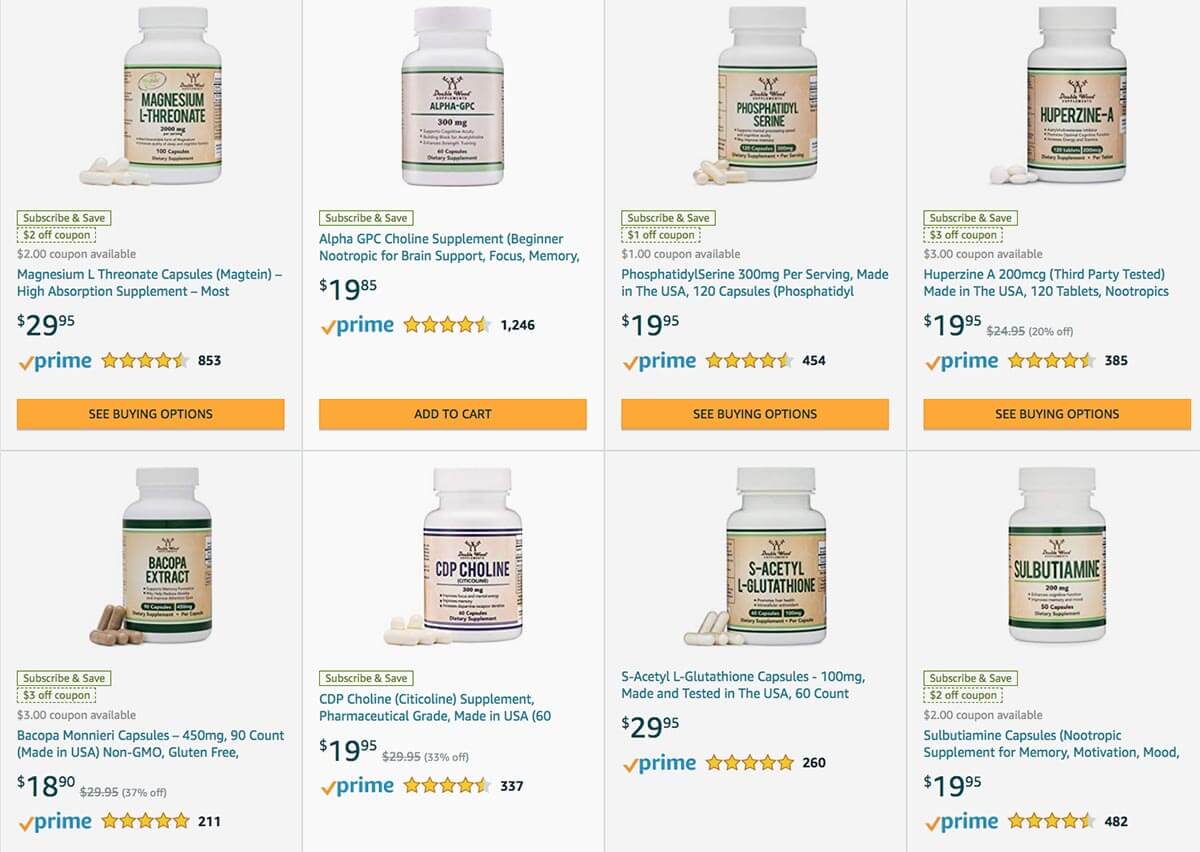 Yes, Double Wood Supplements is a very, very popular brand on Amazon as well!
Buy From Double Wood Supplements
If you decided to order some supplements from Double Wood Supplements, you can get the lowest price possible here >>

Your Inception Final Recommendation
Your Inception recommends Double Wood Supplements vendor. Based on our personal experience and review, we are convinced that Double Wood Supplements is a very reliable online nootropic vendor. They have a relatively big range of nootropics, vitamins, and even smart drugs. We were satisfied with the ordering process, shipment, nootropic quality, and overall support that we received.
Frequently Asked Questions
1. Is Double Wood Supplements legit?
Yes, Double Wood Supplements is a legit store based on our review and experience with it.
2. Are Double Wood supplements safe?
Yes, based on our research, most Double Wood supplements are considered if taken as recommended.
[1] Click here to check other stores