Review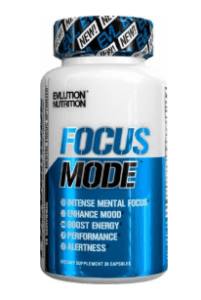 Product Name: EVL Focus Focus Mode
Product Description: EVL Focus Focus Mode is a supplement for improving focus.
Brand: Bodybuilding.com
Introduction
FocusMode is a nootropic stack that was developed to increase mental and physical performance. It's a great productivity booster and can be used as a pre-workout supplement as well. But how does it compare to other nootropic stacks?
Pros
It improves your mental and physical performance
It is an affordable nootropic stack
Cons
Not very effective for memory improvement
It contains guarana, which a lot of people have issues with
It contains no vitamins and minerals for overall body & mind support
Focus Mode Review
Focus Mode is a nootropic stack that was developed by EVL, a recognized global fitness supplement brand.
They have decided to develop a nootropic supplement that can be used for improving your cognitive and physical performance.
Focus Mode is a moderately dosed nootropic stack that has its basis on Guarana.
Therefore, it provides an energy boost that can help you get into the hyper-productive zone as well as train harder and longer in the gym.
Apart from Guarana, it is mainly using well-researched ingredients for improving:
Mental focus
Performance
Motivation
Memory
Energy
Mood
While I didn't expect so much from this stack when I saw it for the first time, it definitely surprised me.
Well, kind of. Let me explain.
The intended use of FocusMode nootropic stack is for work, studying, training, and even playing games.
After analyzing the product, I'm well aware that it doesn't really cover all 6 points (it's especially weak on memory improvement).
Besides, I do not like Guarana. It just doesn't make me feel good (and I know a lot of people with the same issue).
So, there is a bit of a doubt about that as well.
But let's have a look at the ingredients to understand Focus Mode better.
Focus Mode Ingredients
FocusMode consists of several nootropics and other supplements.
Here are all of the ingredients that you can find in Focus Mode:
340 mg Guarana Seed Extract
200 mg N-Acetyl Tyrosine
200 mg Alpha-GPC
200 mg L-Theanine
150 mg Mucuna Pruriens Extract
100 mg Phosphatidylserine Powder
20 mg Huperzine Serrata Extract
Guarana Seed Extract, 340 mg
Guarana Seed Extract helps you raise your level of energy, focus, and endurance since it contains a higher dosage of caffeine. [1]
N-Acetyl Tyrosine, 200 mg
N-Acetyl Tyrosine is a dissolved version of amino acid L-Tyrosine. L-Tyrosine is a precursor of dopamine, norepinephrine, and epinephrine. [2]
It can help you with alleviating the brain crash associated with specific activities, stress, sleep deprivation, etc.
Alpha-GPC, 200 mg
Alpha-Glycerylphosphorylcholine is a plant-based ingredient, which has been proven to slow down cognitive decline in the elderly and can improve your cognitive function. [3]
L-Theanine, 200 mg
L-Theanine is rarely found in an everyday diet. Nonetheless, it is an extraordinary ingredient that helps you relax, destress, and even improves your attention a bit. It's especially beneficial in combination with caffeine. [4]
Mucuna Pruriens Extract, 150 mg
Also known as Velvet Bean, Mucuna Pruriens is known for being a great source of L-DOPA. As a precursor of dopamine, L-DOPA can increase dopamine levels and consequently, your focus, concentration, and drive. [5]
Phosphatidylserine Powder, 100 mg
Phosphatidylserine is an amino acid derivative compound found in the brain and plays a vital part in supporting cognitive function. [6]
Huperzine Serrata Extract, 20 mg
Huperzine Serrata is derived from a plant called Clubmoss, which is known to help with memory formation. Huperzine Serrata is a natural acetylcholinesterase inhibitor, which also supports focus and concentration. [7]
Besides mentioned, you can find some other ingredients of smaller dosages in Focus Mode:
Gelatin,
Microcrystalline Cellulose,
Magnesium Stearate,
Silica,
Titanium Dioxide,
FD&C Blue 1.
Overall, Focus Mode consists of a diverse mix of ingredients promoting motivation, focus, high energy and dopamine levels, and relaxation.
But it also contains many "fillers" which I would avoid.
Focus Mode Suggested Use
The suggested dosage of EVL Focus Mode is 2 capsules per day. This is also the maximum daily dosage you can take.
You should get the best effect taking it in the morning, before breakfast.
It is not recommended to consume it within 4 hours of sleep since it contains Guarana Seed Extract (caffeine).
Important: I would suggest you starting with only 1 capsule to see how your body reacts to Guarana. As soon as you know, you can double your dosage.
Focus Mode Reviews
Even though there is some skepticism regarding the formula and adding extra ingredients just so the pills match the blue label on the box, users are generally satisfied with the product.
As per usual in my blogs, I'm listing some of the reviews below;
»Good clean energy! No jitters or upset stomach, leaves me feeling focused and energized, makes a great stack!«

»Focus Mode has been an awesome supplement to add to my routine! Between the gym and studying, it has provided me with laser focus so I can get things done and literally kill the task at hand! Thumbs up!!!«

»I am very high strung and easily stressed out. Pair this with a stressful deadline oriented job and I'm a mess. But focus mode helps calm me down and I feel more concentrated on my task at hand rather then running around trying to accomplish 100 things at once. Great ingredients and a high quality product.«

»This stuff is amazing, it gives me the focus to knockout my work or my workout. Not a gamer so cant speak to that but I have tried other nootropics and this is the first that I feel a clear difference in my energy, performance and focus. You will not be disappointed, Ive used and am using pretty much every product from this brand and they are top notch and great quality.«
While researching how others experienced Focus Mode, I noticed many fitness enthusiasts are using it together with BCAA.
The combination helps them with improving focus, especially towards the end of their training (when they are tired).
So, if you are into muscles and sports, I recommend you try taking Focus Mode in combination with your BCAAs.
Where To Buy Focus Mode
To sum up, FocusMode is a decent product that:
May increase your focus, performance, energy, and mood
May increase your motivation
To order it, click here.
For the price of 29,99 USD, you get 60 capsules or 30 daily servings.

Your Inception Final Recommendation
Your Inception potentially recommends supplementing Focus Mode. During my EVL Focus Mode review, we figured out that Focus Mode seems like a decent supplement. However, there is a whole bunch of other nootropic stacks that are much, much better. It's not that Focus Mode contains terrible ingredients, but it lacks a whole bunch of nootropics that would make it a great stack.
Price/performance could also be better, and based on my experience, some other stacks are simply in a better league. Therefore, we would recommend taking other nootropic stacks.
Click below to find out the best nootropic stacks of all time.
Frequently Asked Questions
1. Which ingredients contains Focus Mode?
FocusMode contains the following ingredients: Guarana Seed Extract, N-Acetyl Tyrosine, Alpha-GPC, L-Theanine, Mucuna Pruriens Extract, Phosphatidylserine Powder, and Huperzine Serrata Extract.
2. When is the best time for taking FocusMode?
I would suggest taking Focus Mode in the morning (before you breakfast).
3. Is FocusMode a good pre-workout supplement?
It's all right, but I've taken better products.
Resources
[1] https://examine.com/supplements/paullinia-cupana/
[2] https://www.yourinception.com/l-tyrosine/
[3] https://www.yourinception.com/alpha-gpc/
[4] Learn more about other reviews here