Total Human is a complex nutritional supplement that contains multiple Onnit products developed for focus, well-being, endurance, and strong immune function. Its main advantage is that all capsules are packed in small packets, which makes the user experience much better. 
But taking too many supplements is not for everyone. So in this Onnit Total Human review, I'll dissect this popular supplement, look at the ingredients and dosages, and give you my final recommendation.
Overview
I've always been fascinated by complex vitamins and minerals. I love the idea that one day, we will all have to take one pill per day to be fit, smart, and healthy. But until this happens, we must use effective supplements in various forms. 
One of such dietary supplements is Total Human by Onnit. This "all-in-one" supplement contains crucial minerals, vitamins, nootropics, and other compounds that can optimize your performance, improve immunity, and support your health. While it is not an alternative for a healthy diet, it may massively impact your well-being.
Total Human is one of the most advanced dietary supplements on the market. It consists of over ten individual Onnit supplements and contains a whole range of vitamins, minerals, herbs, amino acids, nootropics, and other potent ingredients.
It was designed to help people: 
Achieve ultimate cognitive performance and mental clarity

Get high-quality nutrients
Boost their energy levels
Offer 24/7 brain and body support
Facilitate the taking of supplements
Protect their immune system
Total Human consists of two main supplements: Total Human Day Pack & Night Pack. Both products contain all the crucial ingredients that you need for optimal body and brain performance.
Even though Total Human has many compounds, it's relatively affordable compared to buying all those supplements individually. Since it comes in sachets, it is also very convenient for daily taking. Instead of opening multiple bottles, you only have to open two sachets daily and swallow all the pills. 
Undoubtedly, Onnit made Total Human stand out from the competition with its unique formulation. But it made me wonder – with so many ingredients that you intake with a single dose of Total Human stack, will this cause any side effects? And is it safe?
Here is what I found out.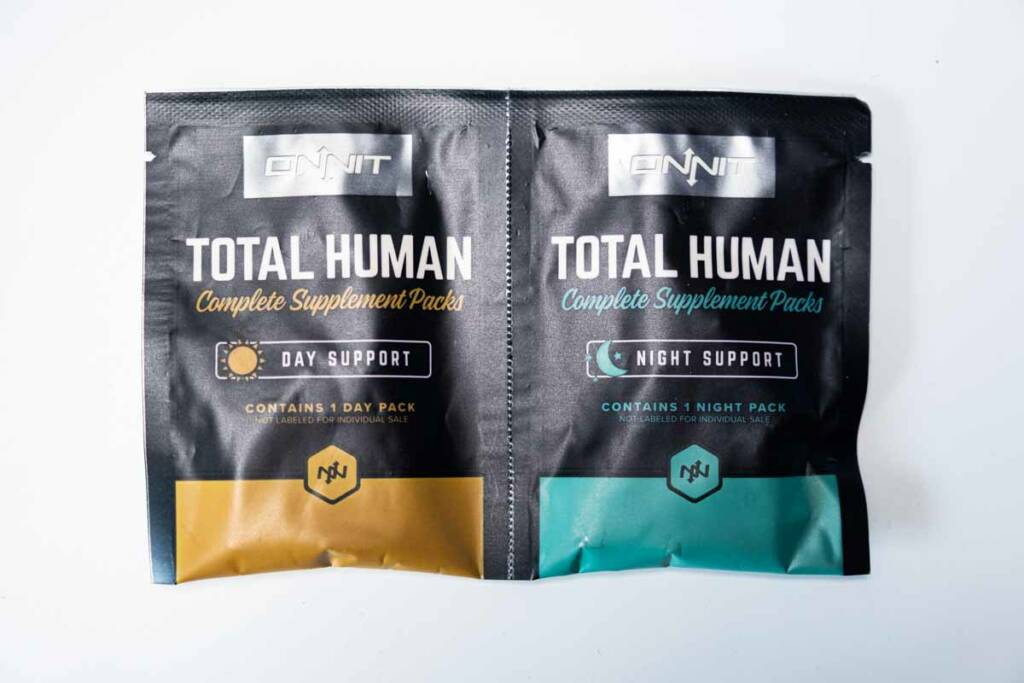 Total Human is a complex nootropic stack that supports your 24/7 performance.
Use a discount code YOURINCEPTION for 15% off!
My Experience
I often receive a nootropic stack, put it on my table, do quick research, and don't feel like trying it out. Sometimes it is because of the low-quality ingredients; other times it's because of the wrong dosages.
But with Total Human, I couldn't wait to open it up and try it out. So I immediately stopped taking other supplements, and I put all my focus on Total Human.
Test Week
Compared to many other dietary supplements, Total Human is not a classical one. It doesn't allow you to play with the daily dosage (by taking a few more or fewer capsules), but it tells you: Here is what you need to take in the morning, and here is what you need to take in the evening.
That's it. Since the dosages are pretty much optimized for an adult, you can bet you can immediately feel the benefits. Just after a single use, I felt more focused and alert. 
I even felt a small energy kick around 30-60 minutes after I took Total Human day support. If this was a placebo or not, it's hard to say, but I felt the same kick every time I took it.
Since Total Human day support doesn't contain only Alpha Brain, but also several other supplements such as Shroom Tech Support, I expected such positive effects.
During the same week, I also tried the Total Human Night Pack, which was also quite effective. It is a bit harder for me to notice the real effects of sleep supplements, but I definitely noticed an improvement in sleep quality. 
More importantly, based on my experience, Total Human is a complete product that targets overall wellness and delivers excellent results. It offers a range of supplements conveniently packed in small supplement packs.
On the other side, you have to take all the ingredients every time, and it's tough to stack it with other supplements. Total Human wasn't designed to work as one of many supplements on the market, but it is instead an all-around supplement that covers all the bases. 
But before you make up your mind about Total Human, you should know more about the ingredients.
Ingredients
Total Human is separated into 2 different packs: The Day Pack and the Night pack. Both consist of a whole range of different ingredients. 
Let's check them out.
Onnit Total Human Day Pack
Total Human Day Pack contains crucial vitamins, minerals, herbs, nootropics, amino acids, and other supplements that will ensure your optimal daily performance. It was designed to support focus, energy, and mental alertness. Additionally, this supplement packs the exact ingredients to support the brain, bones, joints, muscles, and more.
Unlike the typical multivitamin, the product is well-dosed and contains the highest-quality ingredients possible. What's even more important, the Total Human Day Pack goes well with its "brother" – the Night Pack.
Total Human Night Pack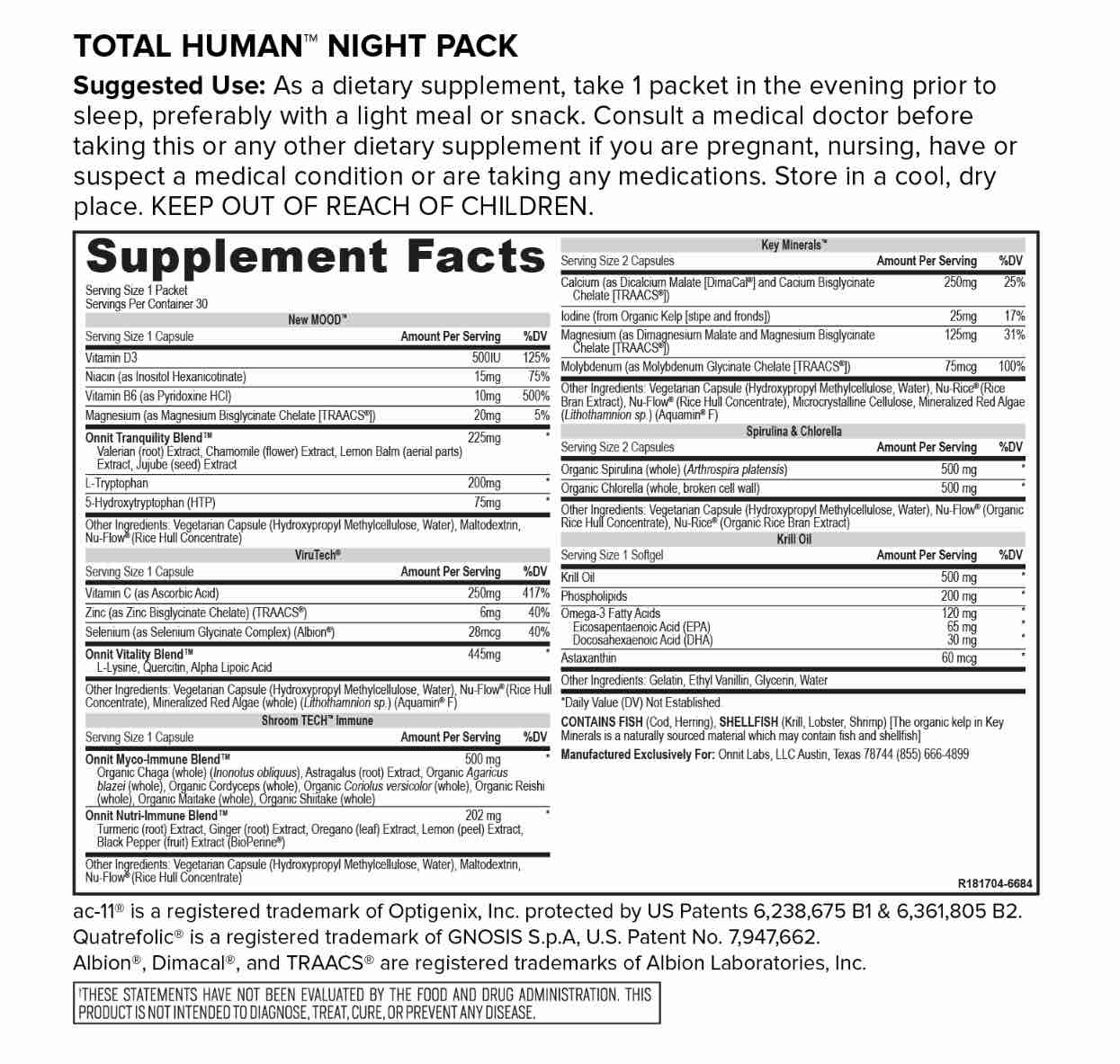 The Night Pack is all focused on making you more relaxed in the evening and ensure better sleep. Total Human can make you less stressed, decrease your anxiety, and increase your sleep quality. It will also help you wake up more energized and refreshed. 
Besides, it contains some vitamins and minerals that the Day Pack does not have.
All in all, we can see that the whole Total Human package was carefully designed and developed with the optimal performance in mind.
Let's check the ingredients in more detail.
Day Support's Formula
The Total Human Day Support Supplement includes the following supplements:
Alpha Brain
Shroom Tech Sport
Total Human B Complex
Stron BONE
Alpha Brain
Alpha Brain is a premium nootropic supplement that contains 9 nootropics for optimal brain health and performance. It supports memory, focus and concentration.
Alpha Brain contains:
L-Tyrosine

L-Theanine

Oat straw extract

Vitamin B6

Phosphatidylserine

Cat's Claw extract

Alpha-GPC

Bacopa Monnieri

Huperzine A

L-Leucine

Pterostilbene
The main compounds responsible for the potency of this nootropic stack are:
L-theanine – an amino acid that increases brain wave production [*]
Phosphatidylserine – an FDA-approved amino acid that is vital for cognitive function [*]
Other ingredients support the main three nootropics and provide additional cognitive benefits.
Shroom Tech Sport
Shroom Tech Sport contains adaptogen Ashwagandha, Cordyceps, Green tea extract, Rhodiola, and vitamin B12. These compounds offer neuroprotection, decrease stress levels, and help the body with cellular energy. They are also great for the immune system.
Mushrooms and adaptogens work well together, so I highly recommend supplementing them.
Total Human B Complex
Total Human B Complex contains B-vitamins that are needed for optimal brain health, well-being, and brain function.
Stron BONE
Stron Bone contains Vitamin K2 and Vitamin E, strontium, potassium, copper, manganese, boron, and bioperine. These vitamins and minerals promote vitality and general health.
Vitamin E is known to support healthy skin, lessen inflammation, speed up the healing of wounds, enhance brain function, and help prevent some cancers and is used as heart disease treatment.
K2 is a fat-soluble vitamin that aids calcium absorption, making it crucial for healthy bones. Additionally, it supports everything from improved heart health to mental clarity. The immune system is supported by vitamin K2 as well. 
Our body needs copper to use iron efficiently. Additionally, copper is essential in preventing oxidative damage to our c. It also helps in collagen formation, stronger hair, and good skin.
Night Support's Formula
Total Human Night Packs include the following supplements:
New Mood
Key Minerals
Virutech
New Mood
New Mood offers daily stress support for mood and relaxation. It includes nootropics like valerian, chamomile, lemon balm, jujube seed extract, L-tryptophan, niacin, 5-HTP, inositol, vitamin b6, niacin, and magnesium.
This complex supplement is very effective for decreasing stress levels but also for improving sleep quality. The ingredients can also improve serotonin production in our brain
Key Minerals
As the name says, the Key Minerals supplement contains crucial minerals for optimal cognitive performance and health.
Virutech
Virutech is a unique supplement that contains vitamin C, zinc, and selenium. This combination can enhance your immune system.
Both Packs
Both Packs also contain spirulina and chlorella, Shroom Tech Immune, and Krill oil.
As you can see, Total Human is a complex supplement that consists of many supplements and even more individual compounds.
Can you expect any side effects due to its complexity?
The Side Effects
Usually, you can figure out the potential side effects based on the mix of ingredients in a particular stack. But this is not true for Total Human.
I quickly got worried when I looked at all the ingredients in this supplement. 
Not because there are risky ingredients in this stack, but because there are so many mixed together.
However, I experienced no adverse side effects like headaches or nausea during my test period.   Total Human supplements boost my body's natural energy production, which helps me in my daily activities. I felt very much focused and energized the whole day. And at night, I was calm, and my sleep was great.
However, Total Human can cause:
Stomach pain
Diarrhea
Brain fog
To avoid potential side effects, I recommend taking the capsules after a meal. Do not take a higher daily dosage than recommended.
So, my experience in terms of side effects has been great, and I'd consider marking Total Human as a very safe stack.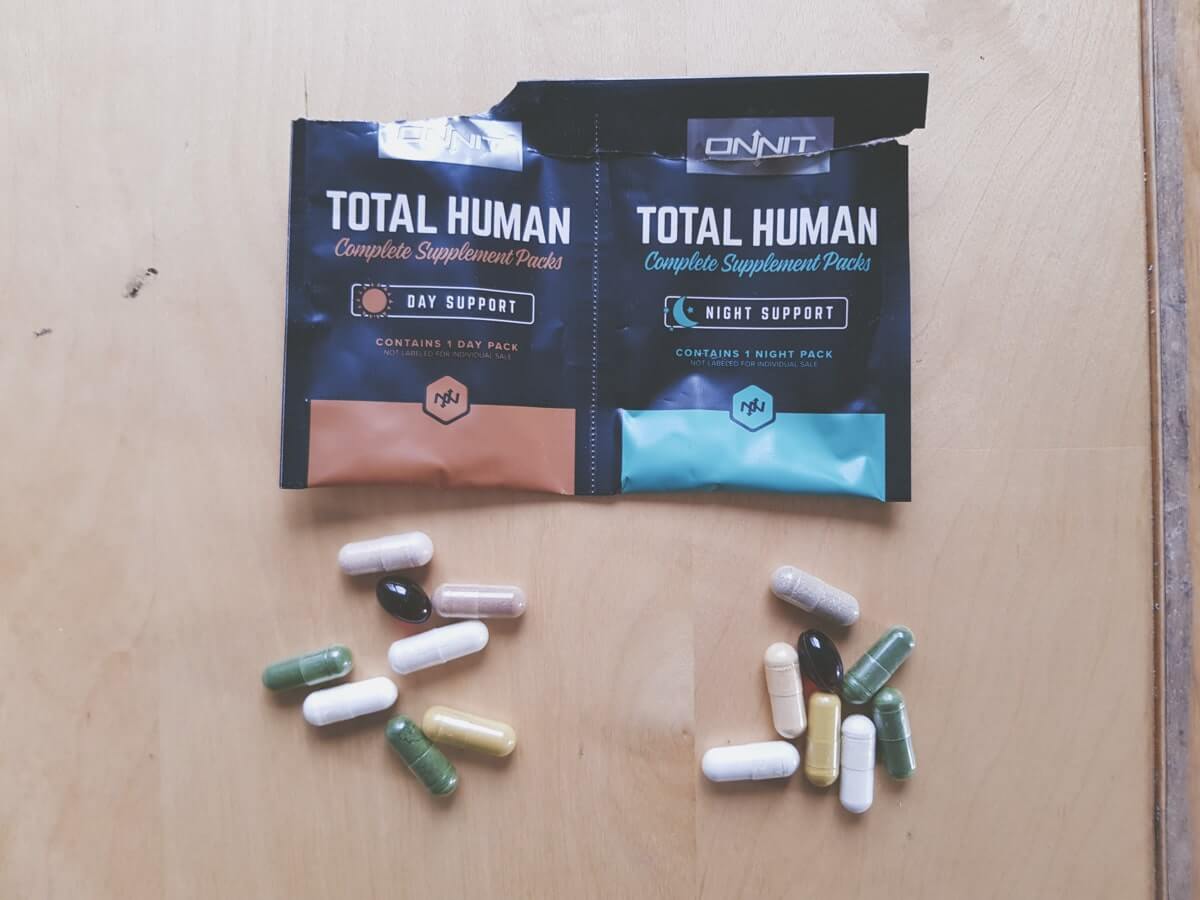 Suggested Use
The recommended dose for Total Human Day and Night pack is 1 packet/day.
So, you can take 1 packet in the morning with your breakfast. One packet contains 8 capsules.
Then, about an hour before sleep in the evening, you open the other packet and take the other 8 capsules.
That's what I've done during the test, and I recommend it to you as well.
To be 100% sure regarding the dose, do consult your doctor.
Feedbacks
As part of my review process, I tried to figure out what others think about Total Human. I found some very interesting reviews.
Where To Buy?
To sum up the effects of Total Human:
It can ensure optimal human performance
It will deliver all essential vitamins, minerals, and antioxidants
It will make you more relaxed, and it will improve your sleep
Total Human might as well be the best supplement stack currently available on the market.
It is also on the list of my TOP 5 favorite supplements.
If you want to buy it, you can do it here >>
Use code YOURINCEPTION for a special 10% discount. 
Verdict
Your Inception recommends supplementing Total Human. Onnit, the brand that developed Total Human, positively surprised us. They were able to create a product that is your all-in-one solution for optimal cognitive performance and health. And it's a very well-dosed supplement.
Total Human contains crucial nootropics, amino acids, herbs, mushrooms, and other compounds for optimal performance.
Putting so many excellent ingredients in one supplement benefits your health and performance. So we can honestly say Total Human is a product to try!