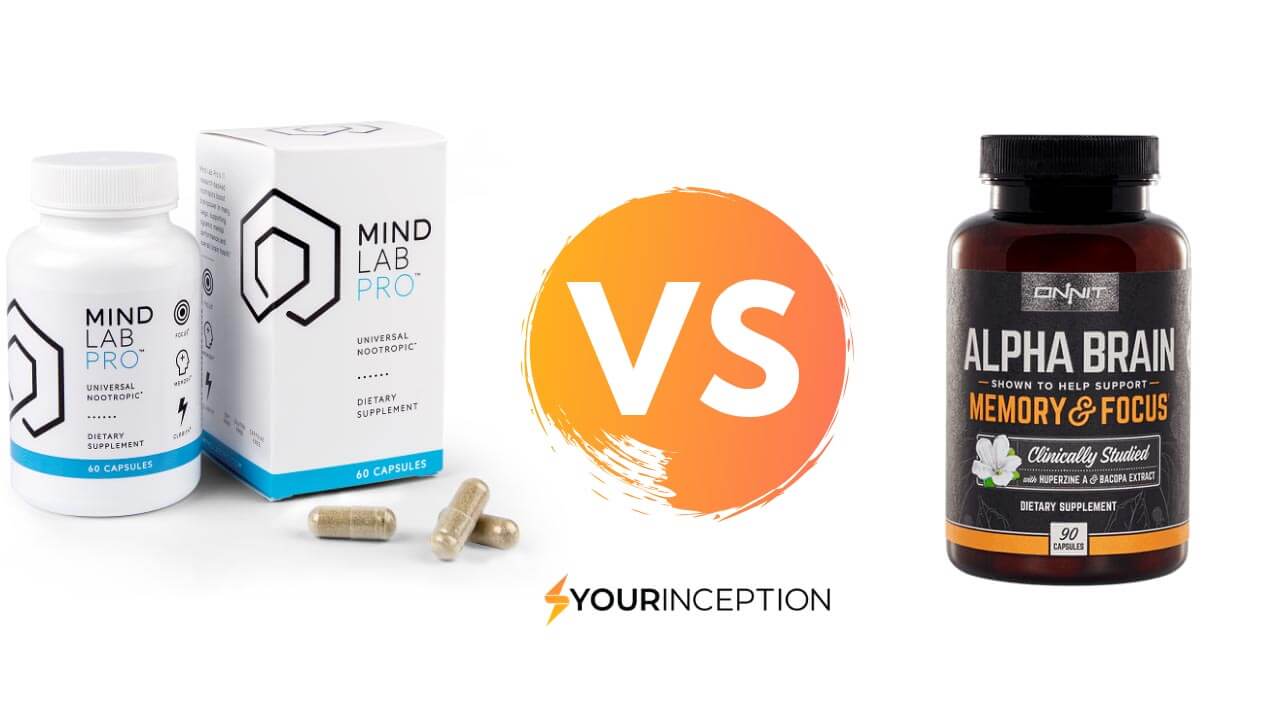 The first comparison I have ever made between two nootropic stacks was made between Mind Lab Pro vs Alpha Brain. That happened in 2016 when both supplements stood out from the competition. But a lot has changed since then. What exactly? Check it out.
Mind Lab Pro Vs Alpha Brain 
When I was first choosing the best nootropic supplements for myself, I had a hard time picking the better supplement of the two. To be honest, I couldn't pick one back then, so I've decided to test both of them. And there wasn't much of a difference between the supplements. 
Or at least I couldn't experience it. But a lot has changed since 2016. While Mind Lab Pro has been continuously evolving and developing, Alpha Brain stayed pretty much the same.
And that's the main reason why it slowly started losing against Mind Lab Pro. But the question remains: Has Alpha Brain stayed in the game? Or has Mind Lab Pro wholly taken over the throne?
Let's find out.
Similarities
Let's first check what both nootropic supplements have in common.
1. Both supplements were developed to improve your focus, memory, and overall cognitive performance
If you carefully investigate the products, you will quickly figure out that they aren't very different. Well, they contain a few different nootropic compounds, but they were developed with a similar goal: to help you achieve better cognitive performance.
And that's what makes both supplements very similar.
2. Both stacks are the best nootropic supplements from the brands
Alpha Brain and Mind Lab Pro are both flagship nootropic supplements. Whichever you finally choose, you will get the best one that both brands can offer.
3. They contain high-quality nootropics
There is no doubt that both supplements contain high-quality ingredients. With the rapid growth of the industry, high-quality nootropic ingredients are rarely seen in the supplements.
Luckily, both products are known to be high-quality.
4. They are among more expensive supplements
There is no secret that Alpha Brain and Mind Lab Pro target people who really want to improve their performance.
Having said this, both supplements are among more effective, and consequently, more expensive.
Now let's have a look at the differences.
Differences
I guess you are wondering what's the real difference between both stacks. Let's find out.
1. Mind Lab Pro is regularly updating their nootropic formula
Since I tried Mind Lab Pro for the first time, their formula has been optimized at least two times. They are very keen on listening to the feedback of users.
While this might be true for Alpha Brain as well, I cannot find any data that they also optimized their formula.
What's more – Onnit (the company behind Alpha Brain) is still hiding the crucial information about the exact dosages of all ingredients, which is terrible.
2. Mind Lab Pro has an open-sourced formula
One of the main benefits of Mind Lab Pro is its open-sourced formula. You can easily see dosages of all ingredients in it.
This is not true for Alpha Brain, which most experts find really disturbing. If you don't know the exact amount of every single ingredient in a supplement, how can anyone recommend it?
3. Alpha Brain is more focused on athletes
The brand Onnit has entirely focused on developing a whole range of supplements for athletes and sports enthusiasts.
Mind Lab Pro, however, stayed focused on providing one nootropic supplement to a wide range of users.
I cannot say what's better, but it seems like Onnit has simply forgotten about Alpha Brain.
Well, I see no other reason why wouldn't they optimize their formula otherwise.
4. Pricing
Mind Lab Pro is slightly more expensive than Alpha Brain. Let's check out the difference in the price per serving:
| | PRICE | SERVINGS | PRICE PER SERVING |
| --- | --- | --- | --- |
| Alpha Brain | $59 | 30 | $1.96 |
| Mind Lab Pro | $65 | 30 | $2.16 |
5. Overall Performance
During my tests, both supplements delivered a similar performance. It was honestly hard to say which is better in the short term.
However, the issue is long-term performance. Or the lack of it.
Mind Lab Pro contains superior nootropics that should help you perform better in the long term. If you are serious about improving your long-term cognitive performance, then Mind Lab Pro is a product to choose.
Also, many people (including my girlfriend) felt sick when supplementing Alpha Brain. Many people report severe side effects when supplementing Alpha Brain, which is a big red sign. 
Which Supplement Wins?
If you include all factors (performance, side effects, long term effects, price, quality, etc.), Mind Lab Pro is a winner between these two supplements.
If Onnit were regularly updating and optimizing Alpha Brain, the final result could change. 
Sadly, this is not happening, so I recommend buying Mind Lab Pro. 
Where To Buy It? 
If you want to get the lowest price for Mind Lab Pro, click here. 

Your Inception Final Recommendation
I would really like to see a fair battle between once such great rivals. Until Onnit focuses on Alpha Brain again, Mind Lab Pro will be our product of choice. It's simply better in all aspects..
Resources