When looking for a comprehensive nootropic stack, whether online or talking to other nootropic users, the top recommendation is almost always Mind Lab Pro. With extensive research and clinically-tested ingredients to enhance overall brain health, immune system functioning, natural energy, and human memory, Mind Lab Pro sets the bar pretty high by keeping its formula third-party tested, GMP certified, and free of common allergens and stimulants, including caffeine, gluten, soy, and GMO ingredients. 
Advertised as a universal nootropic stack, that does come at a steep price, Mind Lab Pro covers multiple aspects of brain performance and features an all-in-one inclusive formula that does not need to be stacked with any other brain boosters. In other words, when you use Mind Lab Pro, you don't need to look anywhere else for supporting cognitive functions. 
However, if you're looking for a Mind Lab Pro alternative whether to find something a little more cost-effective or a nootropic supplement that allows you greater flexibility to work it into a custom nootropic stack, here are a few excellent options to consider. 
Alpha Brain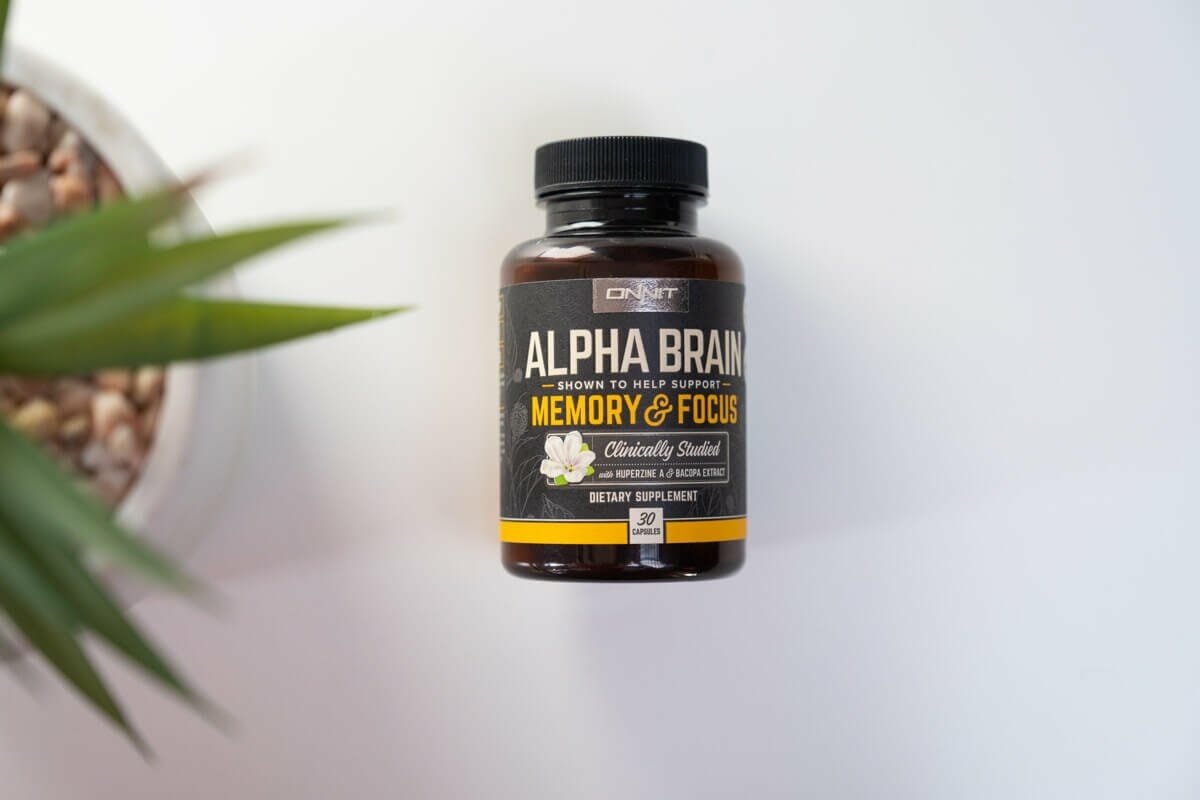 Our first recommendation for an effective Mind Lab Pro alternative is Alpha Brain. This nootropic supplement contains high-efficacy ingredients that potentiate the effects of brain functions such as focus and memory to keep you targeted and productive throughout the day.
Alpha Brain relies on a smart blend of natural ingredients including vitamins, amino acids, and herbal extracts to upgrade your cognitive abilities and immune system functioning. The brand divides its ingredients into three blends, namely Onnit Flow Blend, Onnit Focus Blend, and Onnit Fuel Blend which aim to address various phases of cognitive performance.
It bases its working mechanism on increased brain wave activity, which can support and improve memory, reduce brain fog, and assist critical thinking under stress. [*]
Other ingredients in Alpha Brain boost neurotransmitters that enhance thought processing and facilitate creativity. Like Mind Lab Pro, Alpha Brain is also a caffeine-free product, able to yield a smooth flow of mental clarity that does not cause nervousness and jitters.
Pros
Increases metabolism
Stimulant-free formula 
Enhances different aspects of brain activity
Cons
Contains proprietary blends
May upset the digestive system for some 
Expensive
Click here to order Alpha Brain. Use the discount code YOURINCEPTION to get a 10% discount!
Qualia Mind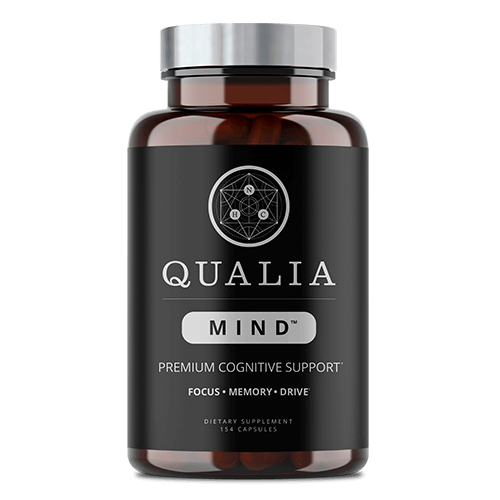 Another excellent Mind Lab Pro alternative, Qualia Mind is a premium brain supplement that promises to reduce brain fog, improve focus, and deliver sustained brain energy to promote mental clarity.
Like Mind Lab Pro, this nootropic stack also contains several brain-boosting nootropics blended together to deliver a lot of brain power. The overall formula is oustanding and contains gluten-free, vegan, and non-GMO ingredients that not only sustain but also improve overall cognitive performance by assisting mental health in the long and short run.
Alongside the immediate surge of brain energy that this stack delivers, it's also been devised to yield benefits in the long-term by supporting brain cells and synapses. For long-term benefits, Qualia Mind also optimizes the brain's stored energy by providing many essential building blocks, vital minerals, along with several neurotransmitter agents to keep their balance leveled.
It may not, however, be for the caffeine sensitive since it contains a fair amount of this stimulant. [*] Luckily, there is a caffeine-free version available.
Pros
Clean list of ingredients
Ideal for short and long-term mental energy boost
All-inclusive formula
Money-back guarantee
Cons
Needs recycling
Very expensive
Cannot be stacked with other nootropic supplements
If you want to order Qualia Mind,
you can do it here.
Use the
discount code YOURINCEPTION
for a 15% discount. 
Performance Lab Mind
A four-ingredient formula that is an adequate Mind Lab Pro alternative is Performance Lab Mind. Even though it has far fewer ingredients than Mind Lab Pro, Performance Lab Mind supports brain health in ways that other nootropic stacks hope to do with 10-12 ingredients.
Performance Lab Mind caters to anyone and everyone looking to boost brain function and mental energy with its two-fold mechanism by improving cognitive function and lowering mental fatigue.
The natural ingredients in Performance Lab Mind are all backed by science, with each focusing on a specific aspect of brain function. Together, however, the four cognitive enhancers work synergistically to yield comprehensive brain health support in different situations.
Plus, like Mind Lab Pro, Performance Lab Mind also uses only the best and patented forms of ingredients that guarantee consistent cognitive benefits. It is recommended for anyone just starting with nootropic supplements with its minimalistic yet effective formula.
Pros
Stimulant-free formula
No allergens, soy, and gluten
Non-GMO certified
Money-back guarantee
Cons
Ingredients may be slightly underdosed
Not available offline
Noocube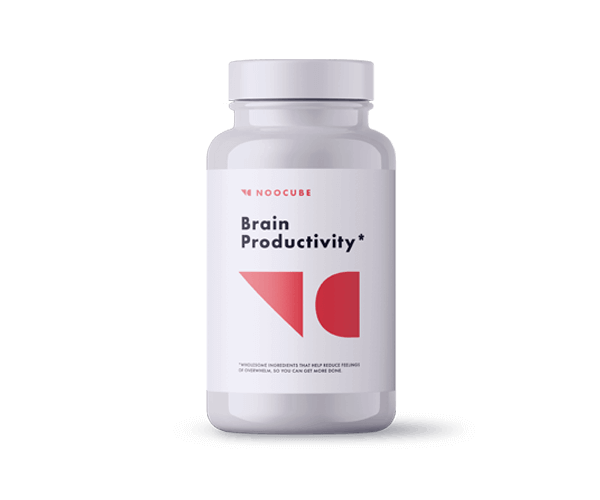 NooCube qualifies as a suitable Mind Lab Pro alternative as it also keeps its ingredient profile free of gluten, caffeine, and GMO ingredients. Its formula showcases cleverly selected sustainable, brain-boosting nootropics that target brain function on multiple levels.
It works by boosting neurotransmitters that optimize brain performance, encourage memory enhancement, and regulate mood and emotions. Its main mechanism, however, is using cholinergic memory enhancers like alpha GPC, Bacopa, and huperzine A to boost the brain activity of acetylcholine.
NooCube also relies on the amino acid potential of l-tyrosine and l-theanine to promote wakefulness and alertness while reducing fatigue and stress.
Overall, this is one of the most popular Mind Lab Pro alternatives that people reach for when they want some sustainable energy support to enhance cognition. However, it's not nearly as quality as some other nootropics on our list. 
Pros
Caffeine-free brain booster
No proprietary blends used
Contains safe and effective nutrients
Money-back guarantee
Cons
Needs recycling
Ingredients seem to be underdosed
Brain Pill
Brain Pill is another nootropic supplement that can serve as a Mind Lab Pro alternative. This formula works to boost mental alertness and other cognitive functions by improving blood circulation in brain cells.
Brain Pill uses a mix of 13 all-natural ingredients like Bacopa monnieri, Cognizin, ginkgo biloba, huperzine A, phosphatidylserine, vinpocetine, and others to enhance the brain's ability to boost cognitive function and targets the four aspects of memory, focus, concentration, and mood.
It also strives to achieve better neuroplasticity as this can increase oxygen flow and deliver more nutrient-dense blood to brain cells. The result often manifests as less forgetfulness and improved mental alertness. [*]
Brain Pill is also highly recommended for people suffering from cognitive decline given its phosphatidylserine content which works to support brain health recovery and may even be beneficial for mild cognitive impairment.
Pros
Stimulant-free nootropic 
Scientifically researched ingredients
Money-back guarantee 
Cons
Contains fillers
May need recycling due to huperzine A
Not suitable for sensitive digestive systems
Performance Lab Caffeine+
Performance Lab Caffeine+ comes from the makers of Performance Lab nootropic supplements that also bring you popular nootropics like Performance Lab MCT and Performance Lab Sleep. We consider Performance Lab Caffeine+ a good Mind Lab Pro alternative as it is essentially a stripped-down version of Mind Lab Pro but one that is enhanced with caffeine.
First off, Performance Lab Caffeine+ contains only three ingredients and four vitamins that synergize to yield a fast-acting energy boost. But don't expect to experience any jitters and crashes when using Performance Lab stim as it uses caffeine in a reasonably modest dose and also pairs it with the amino acids l-theanine and l-tyrosine.
Then, it uses a blend of B-vitamins including B2, B6, B9, and B12. Together, users get the benefits of energy production, cell formation, central nervous system support, and some antioxidant properties. [*]
So, if you looking for an energy-boosting nootropic with caffeine in it, then Performance Lab Caffeine Plus is all you may need. As compared to other supplements with a caffeine content, Performance Lab Caffeine+ contains just enough caffeine to give the energy you need without causing discomfort to the digestive system or other caffeine-related side effects.
Pros
High-quality, energy-boosting supplement
Safe and effective caffeine dosage
Clean label and ingredients
Money-back guarantee
Cons
May need to double up the dosage to feel the effects of caffeine
Not for people who want to avoid caffeine
Hunter Focus
For a potent punch of natural ingredients to nourish a healthy brain, Hunter Focus is a good Mind Lab Pro alternative. It fits the bill nicely with its clever blend of ashwagandha extract, Bacopa monnieri, lion's mane mushroom, l theanine sourced from green tea extract, passionflower, and maritime pine bark extract. It pairs these herbal blends with other great nootropics like citicoline, N-acetyl-l-tyrosine, and phosphatidylserine to give you the brain boost you want.
The active ingredients in Hunter Focus work to improve cerebral blood flow, have neuroprotective properties, and enhance the overall health of the brain and central nervous system.
This nootropic supplement is best recommended for improving mental clarity, learning, thinking, and attention. It supports brain pathways responsible for cognitive function using lion's mane mushroom to boost nerve growth factor and maritime pine bark extract to feed the brain with oxygen and blood. [*]
It has also been seen as effective for managing stress in situations when one may feel pressed or overwhelmed by impacting dopamine that induces feelings of calm, motivation, focus, and attention.
Like Mind Lab Pro, Hunter Focus is also a stimulant-free formula and may take some time to present results through continued use. The manufacturers are transparent about the ingredient list and do not hide anything within a proprietary blend.
Pros
Tested ingredients
No proprietary blends
Yields long-term, sustainable effects
Can be used with different nootropic stacks
Cons
Expensive product
Not as strong as Mind Lab Pro
If you want to order Hunter Focus, you can 
do it here
.
Zhou Neuro Peak
The reason Zhou Neuro Peak makes it on the list of Mind Lab Pro alternatives is because it is one of the more reliable nootropics that delivers consistent results for improving cognitive functions. Plus, it is also good tool for improved brain functioning that comes at a an affordable price.
This nootropic supplement includes several nutrients that are staples of the nootropic industry. With brain boosters like ginkgo biloba, Bacopa monnieri, phosphatidylserine, and rhodiola rosea, it's hard to go wrong with the supplement's abilities to support cognitive enhancement. Zhou Nutrition also packs in some vitamin B12 to cater to individuals who may have a deficiency.
The unique blend of six standalone nootropics works in synergy to boost cognitive function for up to six hours. Manufacturers provide complete transparency regarding the ingredient profile giving accurate dosages of all nootropics in their formula.
Pros
Uses some nootropic staples
No proprietary blends
Affordably priced
Money-back guarantee
Cons
Low dosages for many nutrients
DMAE can cause side effects
Not suitable for vegans
Verdict
To conclude, you can see from our choice of the most suitable Mind Lab Pro alternatives that most nootropic supplements specialize in targeting specific brain pathways. While some may be exceptionally adept at improving cognitive enhancement as the aging process sets in, others may be what you need to boost immunity alongside brain function. Some Mind Lab Pro alternatives are devised to deliver instant results whereas others are seen as more beneficial in the long run.
Mind Lab Pro, however, covers everything in one go. It is a comprehensive formula that covers the full spectrum of enhancing cognitive abilities and works on multiple brain pathways. But if something about Mind Lab Pro doesn't convince you, whether it is the price factor or the need to customize your nootropic stack, you have plenty of good options to use instead.